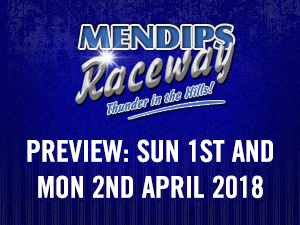 Easter weekend gets underway with a blistering program of eggcellence, choc full of your racing favourites
SUNDAY
BriSCA F2 – Gerry Dommett Memorial Trophy
So the golden year has finally come to Mendips – it's the start of a very important year for the F2's here – the 2018 BriSCA Formula 2 Championship of the World is held here in September – and if last year's British is anything to go by, then it should be a cracker!!!
Nationally, a combination of the white stuff and new rule changes has seen a general malaise take over. However, the Westcountry continues to buck the trend of the national picture – and we hope to have a World Final bounce, with many drivers looking to get dialled in to the track prior to the big day
Early season final winners Steve Gilbert (542) and Nathan Maidment (935) will be the form men around here, as will Plymouthian white grader Tommy Farrell (667), son of the legendary Timmy. Ex Junior Rodder Dan Kent (976) also joins the pack.
Adam Rubery (700) was victorious last year in the Gerry Dommett Memorial trophy- remembering one of the UK's pioneers of the stock car scene and creator of this track and the World Final itself – his Abbey Stadium in Swindon held the first ever world championship.
Both Rubery and track champion – National Series Champion, Gordon Moodie (7) have yet to be seen on tar so far this year. Last year, Moodie turned up unannounced – would history repeat itself??
MICRO BANGERS – ENGLAND vs WALES
Old rivalries of centuries take to the track, as England take on Wales- in a battle which will be having them singing in the Valleys. A casualty of our snow cancelled fixture of the 18th March, the Welsh team wasn't available for the Micro Madness meeting, which gives the English their full attention on destroying the interlopers from across the Severn!
Our grasstrack friends from St Brides, near Newport have put up 20 to take on the best this side of the Severn. Yes, it's the track you often see on BBC One, prior to Eastenders!!!
20 car heats of 10 from each team, then all in for a devastating final to see who is the daddy. For ease, the English are in white and the Welsh in their traditional Red
National bangers with national pride at stake!
HOT RODS – CWS Mears Trophy
By their own admission, last year's season of Hot Rod racing wasn't a classic, with numbers down and the weather playing its part in car attendances.
It was a James Griggs (258) shut out as he retained his track championship at ease, although Jamie Bryant (611), Mark Shelper (788) and the legend Colin White (718) kept him honest.
Speaking of White and it his company which is sponsoring today's races, in memory of long time mechanic Tony Mears, who was by his side during his years of dominance in the National Hot Rods
Keep up to date with all the latest Mendips Raceway news, on Facebook, Twitter and Instagram, and here of course on mendipsraceway.com ! where you can get the latest information on the F2 World, including ticket information and news on the World Final Minisite….
MONDAY
First bank holiday Monday of the year, and have we got some fun for you today to burn off those chocolate enduced excess calories. The Juniors are back for their second running of season 2018, the Bangers (Rookie) get underway, then the sheer novelty of the Robins and the delivery drivers destruction as Vans meet the maker!
JUNIOR RODS
A second showing for the Juniors, and with the first day of school done and toes firmly dipped into the water.
Last time out it was Thomas Weeks (100) who scored a near maximum win with 2 heats and a 2nd in the final. Maddie Giambaresi (176) got some excellent places and Jake Devine (11) took a heat win. But it was Josh Weare (36) who took the final.
Hoping for better luck is Leah Bennett (26) who was really unlucky in losing the lead with a lap to go!
BANGER VANS
You've seen them on the M5 tailgating. You've seen them blocking your road dropping off numerous eBay parcels. Now see the backbone of Britain getting some severe action on the track, for some sheer Vandalism. Transits, crew cabs and LDV's al coming on track.
Big Mac (440) and Dean Quinn (27) were the stars of last year, and it's more than likely that those two will be playing as two of the more destructive banger drivers
BANGERS 1800cc
In a change to the advertised programme, the Bangers return was delayed for a day to allow us to accommodate the England/Wales match which was postponed by the snow.
Dan Rice (138) continues to be one of the shrewd operators in the formula, which is predominantly nudge and spin. Ben Brice (701) had a fair bit of success as did Henry Murray (784)
ROBINS
Season 2018 gets underway for the rocking n rolling Robins, with many looking to get their eye in, and trying to get around the circuit without falling over! Track Champion Tim Weare (304) is due to be on track again, along with Russ Gillingham (26). Last year's top entertainer – Jerry Weeks (100) had more rolls than a dice on a casino table – proving that bringing the fun gets rewards too.
A straight 3 race format is to be deployed to get themselves used to the stability.
Both meetings get underway at 1pm, but get here early – these aren't to be missed
ENGLAND VERSUS WALES BANGER TEAM MATCH
Wales Team (Red cars)
2 - Arran Morgan
03 - Matthew Collyer
28 - Nathan Williams
37 - Robert Marsh
39 - Carl Collyer
79 - Steve Mountjoy
80 - Michalea Cook
83 - Shane Baggs
85 – Craig Mountjoy
101 - Jordan Coombes
114 - Carl Sutton (Capt)
116 - Joey Sutton
117 - Darren Sutton
118 - Sean Mackenzie
143 - Debbie Fry
201 - Stuart Jones
210 – Kieran Humphreys
211 - Graham Thomas
921 - Kairan Wilson
England Team (White cars, red cross)
3 Mark Morris
7 Jamie Charles
27 Dean Quinn
59 Mike Jones (Capt)
76 Mark Hodgekins
77 Aaron Charles
134 Cameron Mc Colm
150 Ben Elliott
174 Ben Sid Taylor
199 Tom Pearce
242 John Quinn
270 Slug
428 Zak Torode
440 Macauley Mills
488 Luke Whatley
720 Kenny Jo Gabriel
737 Ian Crandon
747 Bradley Lee Crandon
775 Brad Hunt
777 Ricky Daunton
Brisca F2 Stock Cars
White
87 Paul Weekes Newton Abbot
227 Stuart Whitemore Bridgwater
251 Craig Driscoll Grafham
282 Ant Riley Accrington
325 Ryan Sheehan Chard
398 Ian England Taunton
639 Stevie Hartnett Plymouth
660 Becky Pearce Dundry
667 Tommy Farrell Plymouth
824 Robert Crowther Cleckheaton
851 Gary Smith Radstock
976 Dan Kent Clevedon
Yellow
53 Phillip Mann Bolton
328 Andy Walker Cheltenham
438 Mike Rice Uffculme
528 Shane Hector Tiverton
613 Ian Serpell Plymouth
801 Jack Cave Nottingham
876 Stuart Moss Wargrave
Blue
111 Lewis Geach Exeter
464 Matt Linfield Billinghurst
476 Ryan Wadling Axbridge
522 Chris Mikulla Weston
745 Lee Morgan Ottery St Mary
890 Paul Rice Ideford
895 Ben Goddard Taunron
979 Paul Moss Fowey
Red
101 Kelvyn Marshall Macclesfield
127 Matt Stoneman Cullompton
315 Justin Fisher Newton Abbott
542 Steven Gilbert Doublebois
560 Luke Wrench Stoke
581 Daniel Fallows Crewe
700 Adam Rubery Brierly Hill
747 Bradley McKinstry Nutts Corner
935 Nathan Maidment Milborne Port
28 Tim Seaford Frome
35 Neil Muddle Bristol
49 Maurice Cole Horsham
57 Graeme Taylor Aldershot
117 Dave Tossell Plymouth
258 James Griggs Nanpean
536 Jeff Johnson Trowbridge
611 Jamie Bryant Radstock
718 Colin White Glastonbury
788 Mark Shelper Bristol
Banger Vans
27 Dean Quinn Bristol
77 Aaron Charles Yate
134 Cameron McColm Draycott
196 Dale Clarke Radstock
252 Boogie New Milton
284 Leon Benjafield Weston
362 Johnny James Ideford
440 Macauley Mills Trowbridge
595 Ben Wall Rooksbridge
600 Marcus Chant Henstridge
739 Jason Moore Henstridge
797 Scott Clarke Radstock
956 Harry Thompson Burnham on Sea
Junior Rods
White
8 George Jenkins Clevedon
28 Ava Hawkins Bishop Sutton
30 Finlay Holloway Bristol
92 Abi Southgate Bristol
176 Maddy Giambaressi Bristol
214 Jude Manley Gurney Slade
236 Alfie Brimble Gurney Slade
437 Ryan Worthington Yate
856 Jamie Cocks Portishead
Blue
29 Jasz McCardle Bishop Sutton
77 Jacob Filer Bristol
100 Thomas Weeks Bath
149 Ieuan Preston Cardiff
599 Louis White Bristol
Red
11 Jake Devine Yatton
75 Jack Buckingham Weston Super-Mare
Superstar
36 Josh Weare Cheddar
190 Ewan Gumbleton Radstock
854 Jack Sear St Stithians
3 Dan Tytheridge Templecombe
25 Kylie Gillingham Glastonbury
26 Russ Gillingham Glastonbury
27 Dean Quinn Bristol
100 Jerry Weeks Bath
101 Gordon Mintram Radstock
119 Stacey Howe Radstock
134 Cameron Mc Colm Draycott
135 Jack Mintram Gurney Slade
174 Ben Sid Taylor Yeovil
304 Tim Weare Draycott
333 Tom Manell Gillingham
392 Josh Sale Somerton
437 Clifford Worthinton Yate
504 Andrew Worthington Yate
509 Matt Dixon Bristol
99 Ryan Hall Taunton
111 Rhys Lansdown Bath
252 Libby James Ideford
270 Slug Highbridge
298 Dave Greening Collumpton
329 Kevin Ealson Henstridge
366 Pete Warren Axminster
826 Jason Field Taunton
908 David Brown Bridgwater
Yellow
175 Gary Hunt WSM
284 Leon Benjafield WSM
455 Shane Kennard Dunkeswell
527 Will Darch Taunton
881 Gary Emery Exeter
956 Harry Thompson WSM
Blue
27 Dean Quinn Bristol
134 Cameron McColm Cheddar
362 Aaron Loader WSM
595 Ben Wall WSM
852 Ryan Hughes Yate
Red
109 Chris Neville Peterborough
194 Alistair Buchan Paignton
244 Ian Frampton Poole
743 Jake Bond Bridgwater
775 Brad Hunt WSM
784 Henry Murray Taunton
Silver
701 Ben Brice Tiverton