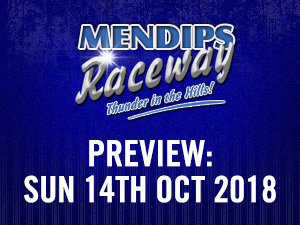 The conclusion is here for the 49th Season running here at Mendips Raceway, after a very eventful year we are excited to bring you 3 West of England Championships. Throughout the last months we have played host to some of the best National drivers, and today is no different.
Junior Rods
A sparkling season comes to a close, in which two drivers at the top have been dominant throughout. 190 Ewan Gumbleton has maintained a stunning season thus far, with 36 Josh Weare the defending West of England Champion sure thing to be battling not only for the championship but also the Points title. Certainly worth noting other succeses throughout the field, the likes 100 Thomas Weekes and 11 Jake Devine will certainly be in the running, throughout the field are several dark horses, such as 77 Jacob Filer and team mate 176 Maddy Giambaressi, as well as the retiring 26 Leah Bennett, we're in for a cracker!
Special Rods

The Special Rod formula, last time out produced one of the races of the season, 556 Stuart Garland taking the final with a stunning array of close racing, exactly how the Special Rods should be! Long time points leader 135 Jim Cannon has been toppled, as 701 Ben Brice takes the lead for the final meeting, meanwhile Zetec powered 720 Dan Latimer has made steady progress to make way for a last meeting challenge for the points, 3 drivers, 1 points championship. Not to be missed, and that's even without the West of England Championship race! In which the grid will be formed in order of points scored in the heats, last year produced race of the year, with the top 8 racing side by side for 19 laps, and on the penultimate corner came too close, with 426 Russ Colenutt winning. New points champion and West of England champion to be crowned!
Bangers
After two World Finals, we have our West of England Championship. A quick congratulations to our seeded drivers 362 Johnny James and 440 Macauley Mills for their efforts throughout the year to earn a spot for the ultimate prize, also a congratulatory note to 67 Rickie Beasley, 262 Buddy James and 954 Jamie Beere for their efforts at Ipswich. We travel into this meeting with 30 points now separating the top two, in which 440 Macauley Mills has all but confirmed a hattrick of points championship wins, and along with the Team Extreme James brothers will be very much in the running to win the West of England Championship. We also welcome 744 Jake Carless back, hoping to
repeat team mate 778 Paul May's accomplishment winning this exact race 2 years ago!
For one final time this season, thank you for your support and lets go racing!
Special Rod Drivers
White
53 Angus Hawkins Bishops Sutton
108 Adam Headland Swindon
192 Ash Raymond Banwell
644 Wayne Thomson Cheddar
Blue
44 Sam Howard Frome
46 Angie Harris Yeovil
75 Gary Hunt Highbridge
81 Andy Hawkins Bishops Sutton
181 Ian McLaren Southampton
364 Darren Feltham Thornbury
581 Ryan Wallace Bristol
711 Matt Gregory Frome
993 Darren Foss Frome
Red
7 Will Harraway Wrington
43 Andy Howard Frome
120 Andy Latimer Burnham On Sea
244 Dale Edwards Bristol
266 Micky Ford Cheddar
304 Tim Weare Cheddar
556 Stuart Garland Bristol
700 Les Brice Tiverton
Superstar
135 Jim Cannon Southampton
701 Ben Brice Tiverton
720 Dan Latimer Loxton
Bangers
27 Dean Quinn Bristol
62 Buddy James Teignmouth
129 Lee Dalton Bristol
185 Richard Coaker
232 Alan Roby Teignmouth
262 Roona New Milton
333 Charlie Randell Ringwood
362 Johnny James Ideford
440 Macauley Mills Trowbridge
714 Paul Smaldon Newton Abbott
743 Jake Bond Bridgwater
744 Jake Carless Taunton
775 Brad Hunt Weston Super-Mare
777 Ricky Daunton Bristol
Junior Rods
White
30 Finley Holloway Bristol
92 Abi Southgate Bristol
111 Millie Ruby Banwell
127 Kacey Quinn Bristol
214 Jude Manley Bristol
236 Alfie Brimble Bristol
437 Ryan Worthington Yate
856 Jamie Cocks Portishead
Blue
26 Leah Bennett Bradford on Avon
28 Ava Hawkins Bishop Sutton
29 Jasmine McArdle Bishop Sutton
35 Charlie Johns Bristol
176 Maddy Giambaressi Bristol
599 Louis White Bristol
Red
8 George Jenkins Bristol
11 Jake Devine Yatton
75 Jack Buckingham WSM
77 Jacob Filer Bristol
88 Charlie Pearce Dundry
149 Ieuan Preston Cardiff
Superstar:
36 Josh Weare Cheddar
100 Thomas Weeks Bath
190 Ewan Gumbleton Radstock