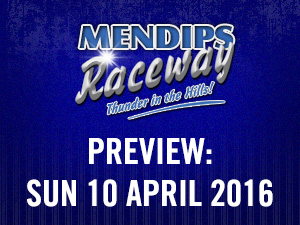 On Sunday April 10th welcome everyone to our third meeting of 2016, and what a meeting it looks to be. The Micro Banger explosion has hit Mendips Raceway this year with over 100 drivers applying to race, 30 up on the 70 that raced last year, and with a bit of juggling, we have managed to accommodate most of them in a three heat thriller that promises lots and lots of action! Cars that are permitted in this formula and 1200 cc or less, with the exception of the Ford KA which is very cheap to buy and not particularly fast. Such is the price of scrap metal these days that these cars can be picked up for £10-£20, hence the popularity of Micro Banger racing. We have a tremendous amount of support from drivers from South Wales, as well as from the South Coast area, and trying to pick out winners from this huge entry is almost impossible! Last year it was Ricky Beasley (67) who won the lions share, but he is currently unable to take part, and also veteran Scott Weldon (517) and Liam Lake(114) recorded wins, with Matt Kelly (206) outlasting everyone in the Destruction Derby.
The Junior Rods had their first outing at Easter, and we welcomed a number of new drivers into the formula, and they all did really well for first time out, most of them completing their races and scoring points. It was Charlie Pearce(88) who dominated from his blue grade start with a heat and Final double, while Josh Weare (36) recorded his first win with his new car. However, it is Charlie Ayles(300) the current Points Champion who was most consistent and heads the Points table after none meeting. The Juniors will be regraded after this meeting, once they have settled down. We are expecting two or three more new drivers in the coming weeks.
Hot Rods got off to a bit of a quiet start, numbers wise, as some drivers were not ready for the early start,
And Colin White(718) made short work of the two heats, but in the Final, a spirited defence of second place by Dave Tossell (117)  allowed Mark Shelper to get away and record a fine win in the CWS Mears Trophy, while Colin had a gearbox failure while battling with Tossell and failed to finish. All set for another session with a better field expected.
The only appearance of the Heritage F2 stock cars takes place this weekend, and while the formula has now been running for over ten years, it seems difficult to get a large field of cars together away from the midlands. This is due to the considerable spread of driver location, from  Cornwall to North Yorkshire, and the distances that have to be travelled to race. However, we hope to have 15 drivers ready to do battle, but sadly, last year's hat trick winner Pete Welland(264) will not be taking part as he is not in the best of health at the moment. The winners at the first three meeting this year at Belle Vue, Northampton and Aldershot were Jack Bunter (128) and Mike Walmsley (869) at the other two, but neither will be racing at this meeting. Jack, is of course, Clerk of the Course here at the Raceway, and Mike is unable to attend, so the way is open for a new winner.
Next time we meet it will be just three weeks away for the May Day meetings, featuring the THUNDERBOLT trophy, and our first outing for Un limited National Bangers, backed up by all you favourite formulae. For full details check out our website www.mendipsraceway.com or our facebook page.
ADMISSION PRICES    Adult £12, Child £3, OAP £6, Family £28