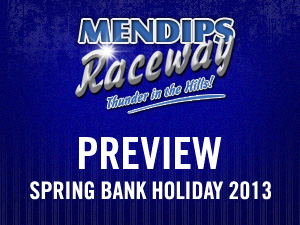 Mendips Raceway will be back in action this coming weekend which is the second of the two Bank Holiday weekends in the month of May. 
Yes they come around that quickly. 
There is a fear that we were spoilt with the cracking weather three weeks ago, the first decent spell for ages but on the plus side since too, so it can only get better and we have two great meetings with something for everyone as ever over the two days.
Naturally starting with Sunday, the BriSCA F2 Stock Cars return and we will have the second round of the Rookies Reward for the white and yellow grade drivers which last time saw the yellow graded 464 Matt Linfield and 254 Richard Beere pretty much run away with the race and for Linfield, and first white top home 519 John Scorse they received a set of Shock Tec shock absorbers each which was certainly a great price. 
The lower graded drivers will have it all to go for again in the first race, this time sponsored by long-time associate of the series Ray Lines Engineering all leading up to the Final in September, for the 12th consecutive year. The annual Marion Bennett Trophy is the one they will be going for in the Final, obviously the 'Master of the Mendips' 886 Chris Bradbury will be the favourite, he won this last year and will be going for his third Final in a row here, and also his sixth track championship in a row although he could have a challenger in the ultra-consistent 921 Jack Aldridge for that this year.  With some very fast blue and yellow graded drivers though, the star men could have it tough, although we did say that last time and they ended up making top three in the Final.
There is a clashing meeting at St Day in Cornwall and a few of our regulars are set to race there, which is closer to where they live.  However, there does seem to be a growing number of 'visiting' drivers showing an interest in coming which could well more than make up the deficit.
Just like the previous Bank Holiday weekend last month the National Bangers have under 1800cc and unlimited to race for, albeit the other way around this time.  The smaller cars last time, primarily the Ford Mondeo of course produced a good showing last time and it was 820 Martyn Perkins who took the Final honours on what was a good day for him.
The bigger cars throw up a different avenue and it is they who have the World Championship qualifying points to go for, which are headed by 262 Rob 'Rooner' Buglar.  It cannot be compared to 'Thunderbolt' last time, which is one of our biggest meetings of the year so by in large (no pun intended) it will be our locals and regulars holding sway on Monday, but as ever though, expect the unexpected, even with our regulars – and whether there are some visiting drivers, remains to be seen but that will just add to the drama, and of course the last chance to race and watch unlimited Bangers in 2013 at Mendips.
The Reliant Robins will be with us on Sunday, for the third running of 'Crazy Day' to add some extra fun into the three wheelers, which are and were never intended to be a serious racing form in any case.  The extra events will be announced at the start of the meeting but there will still be the points to go for which are currently lead by 445 Nikki Loader who just failed to beat 78 Mark Bowskil in the Final last time. 
Monday will see a return to the all Sierra Special Rods who really have been on good form again this year with some very close racing, and a new star in 3 Simon Harroway who now leads the points. We say star, the drivers voted for a somewhat unique rule change in the closed season where a driver can only rise one grade at a time so where as Harroway could have jumped straight to the back, this time he will be blue and it is fair to say he stands a good chance of adding to his tally and but the established stars such 18 Russ Colenut, 23 Rosss Stuckey and 47 Richard Howard to name but three will be out to chase, but what is to say that a white graded driver will not get away again? 
Harroway has been a busy man this season and will be on double duty again as he has his Mini in the Hot Rods which leads us finally, last but definitely not least – especially in speed, we will see the Hot Rods back on track on Monday for the annual Andy and Loreen Trophy which has been raced for many years now.  39 Craig Harris will be looking to win the family silverware naturally. 
It was 718 Colin White who won last year and he'll be looking to defend whilst last time there were three different winners in 780 Mike Loosemore, 205 Mike Norton and the Final went to 282 Steve Hunt who has now started to just edge ahead in the points, but we did say just..  It will be close once again.
Both meetings will start with the traditional Bank Holiday Grand Parade at 1.00pm.