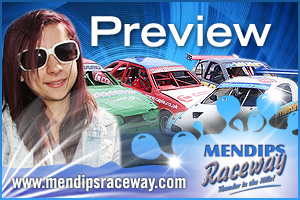 Mendips Raceway will be back in action this weekend, and it is the only time in a season we have Saturday evening and Sunday afternoon racing together, and has become one of highlights of any given season here at the track.
The National Bangers will be with us on both days, and significant events both too with the annual under 2 litre all-Ford rear wheel drive "British Beef" session on Saturday and then the BBA 2 litre English Championship on Sunday afternoon.
The weekend has attracted a great entry once again, with entries still coming in at the time of writing it promises to be another great one. There is a very healthy contingent heading up from the south coast, just as they have in the past for this meeting joining our regular travellers from that area with some very useful drivers amongst them, whilst from the north of the country 320 Darren Wall will be making the trip from the northeast of England.
Last year it was 303 Jason Oliver who took the victory..  There will be tough competition though, and whether some of the 'warring factions' are present and continue as they were over the Bank Holiday weekend we wait and see.
We thank Steve Stockley's Riverside Café for their sponsorship on the British Beef meeting once again.
Sunday will see an even greater number of travelling drivers here for the battle of the Cross of St George including defending title holder 247 Lee Clarke from Norfolk on what will be his first appearance here.
Another significant East Anglian, who has never actually 'raced' here is World Champion 617 Jack Overy, who is never far away from the hunt, along with his running-mates 384 John Golden and 998 Wayne Cotterill Jnr.
Their great rivals in pink, 'The Condoms' will return for the first time since they were victorious at Crashmania two years ago, headed by 158 Shane Davies with other significant track debuts from the like of Sussex based racers 204 Charlie King and 264 Mark Welland.
The local challenge will be headed by 58 Martin Dalton, who has looked right back on it this season and 363 Sam Trim – if he can resist the crash.  We thank Jelf Mansons Insurance Services for their sponsorship of this £1000 big event.
Saturday evening will also see the annual outing here for the Heritage FII Stock Cars, with a huge significant twist this year as it is to be their 'World' Championship.  Suffice to say a good entry of the cars expected, there should be more fun in the clock winding fashion with the largely replica cars dating back to the very early years of the formula 1960 to 1972.
Whilst it is 'fun' the drivers – several of them are those who raced in the period/s in question and despite being a lot older now (!) they take it pretty seriously and it is competitive racing and they will be going for gold like any other.
Last year it was won by 505 Mick Whittle and he will be starting the race in a full lap handicap.  He also leads the points coming into the meeting from 333 Marty Page and 763 Andy Bateman whilst the furthest travelled driver of the day and probably whole weekend will be 386 Leon Bekkers from the Netherlands.
As well as what were largely then known as the Juniors, we will also see the Heritage F1's, originally known as the Seniors back again and they will have what will be more of a demonstration than a race with some of the very old machinery on track, which dates back to the very beginning of the sport here in 1954.
The Hot Rods will be going for the Parkhouse Trophy, which was won by 904 Wilson Hamilton last year and on his visits here so far this year he has looked very quick and capable.  In a mixture of all track conditions last time 718 Colin White took a hat-trick of wins and if present this time, will be the one they all have to try and beat again.
As well as the National Bangers English on Sunday afternoon, there will be a full supporting programme with the Reliant Robins, coming after what was another successful 'Crazy Day' last month.
333 Mark Neville took his first Final win last time whilst another good day, rollover aside, for 499 Lee Charles has seen him move to the top of the points.
It is back to more 'normal' racing this time, as far as it can be on three wheels and there will be the return of the current master of the art 87 Barry Richards who was setting off on a trip to race on the Isle of Man last time, and will be looking to make up lost ground in his quest to keep the silver roof.
The all Sierra Special Rods have been in fine form this season, with some very close, competitive and above all largely clean racing.   Last time out 18 Russ Colenut showed a bit of a master class by winning the Final, going from the back of the grid to the front and then winning at a canter.
It was a great drive for young 60 Steve Sayer to be second though and 23 Ross Stuckey was third, and with he and Colenut starting to look like the favourites for the points it could well be these two to watch again this time, but as ever there will be plenty of competition ahead.
To round out the show on Sunday, the youngsters in the Junior Rods will be back out.  There were several new cars out for the first time last time, as the field has been opened up to allow other eligible cars, and still have the Mini as competitive.
All seems to have worked so far and it was certainly impressive to see 796 Dan Steads out in his Austin A40 last time, which quickly became an iconic car on the internet!  With it being the only rear wheel drive he will be hoping for better weather and track conditions this time.
127 Louis Aldom took heat and Final back on Bank Holiday Monday whilst 300 Jack Ayles had his first win here and 510 Sid Harrison continued to impress.  Much like the Sierras, it will be close, competitive and the potential is definitely there for a surprise.
Remember that it is Saturday evening with a start time of 6.00pm sharp and then the usual start time of 1.30pm on Sunday, with both events planned to be started off with the traditional grand parade of cars.
List of Banger Drivers for British Beef June 25th 2011
4          Bob Barnes
7          Jamie Charles
15         Ben Tovey
38         Craig Allen
40         Pete Stanley
58         Martin Dalton
75         Steve Thacker
78         Andy Looker
88         Tim Wood
117       Kevin Looker
127       Mark Gissing
144       Wayne Thompson
162       Mike Cocks
198       Marcus Goldsmith
211       Jack Sheppard
224       Dale Edwards
225       Simon Bye
235       Chris Elkins
240       Rob Setters
241       Liam Cracknell
242       John Quinn
251       Scott Baker
262       Buddy James
266       Ian Meaker
270       Shaun Baker
303       Jason Oliver
320       Simon Sparrow
320       Darren Wall
322       Paul Brown
322       James Newland
363       Sam Trim
452       Antony Sleeman
476       Matt Rogers
517       Scott Weldon
704       Kevin Checkely
714       Paul Smaldon
719       Chris Storey
727       Jack Goldsworthy
733       Ricky Stroud
790       Dominic Gumbleton
796       Dave Steeds
801       Mike English
841       Tom Perkins
List of Banger drivers for June 26th 2011
4          Bob Barnes
14         Andy Eves
15         Ben Tovey
19         Luke Setters
27         Dean Quinn
38         Craig Allen
40         Pete Stanley
55         Alan Machin
58         Martin Dalton
67         Ricky Beasley
144       Wayne Thompson
158       Shane Davies
162       Mike Cocks
179       Florence
203       Darren Nash
204       Charlie King
210       Paul Barnes
224       Dale Edwards
247       Lee Clarke
252       Steve Bugler
262       Rob Bugler
262       Buddy James
264       Mark Welland
270       Shaun Baker
363       Sam Trim
364       Darren Feltham
382       Jack Foster jnr
384       John Golden
433       Ben Smith
439       Danny Sutton
517       Scott Weldon
617       Jack Overy
714       Paul Smaldon
719       Chris Storey
742       Nigel Thomas
790       Dominic Gumbleton
821       Ryan Preston
998       Wayne Cotterill