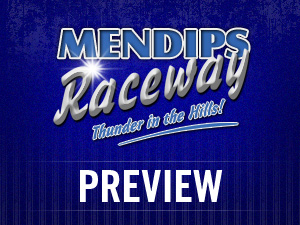 It is Bank Holiday weekend time coming up once again and so a traditional double header and we really have something for everyone over the two meetings with the highlight being the Unlimited Bangers Thunderbolt, ahead of more action including the BriSCA F2 Stock Cars on Monday, and a lot of Bank Holiday fun too in-between too.
Sunday and the Unlimited National Bangers reach THUNDERBOLT 13 and once again looks set to produce an interesting entry of both drivers and cars.  Last year the victory went away when 382 Jack Foster took the win and he is set to travel down from the north of England to defend.  All the big names from Mendips Raceway, the south coast and the southwest will be here to greet him (see entry list) though in what looks to be another hard session in the offering.  No gimmicks, just a day of good and hard unlimited Banger racing.
It comes in its various shapes and sizes of course, we'll see that today but so far this year we have seen both the extremes with the Hearses and Limos on Easter Monday, which was won by 27 Dean Quinn and then the Micro's last time out, where the small cars were once again big on action.  190 Dominic Gumbleton was the winner then, whilst a double winner was 239 Steve Carter who will doubtless play a big part in things again this time.  Sunday's programme will be backed up by all non-contact racing with the Sierra Special Rods and Hot Rods back out.  The Hot Rods have had two great meetings so far this season, with the Final on Easter Sunday a definite candidate for race of the year when 117 Dave Tossell held off 282 Steve Hunt and 718 Colin White for what was lap after lap.  White took the win three weeks ago and thus comes into today leading the points, and whilst he is the man to beat expect it to be all a lot closer than that.  The Sierras continue to thrive and with cars on track providing good and close racing who can argue?  3 Simon Harroway is pulling off a double duty this season in the Hot Rods too, and indeed will be racing both today and it was he who took the win on Easter Monday and a good score from 175 Kev Scammell has put him into the lead of the points after meeting one.  The established front runners all put points on the board though and will be out to add to them.
Monday and the BriSCA F2 Stock Cars will headline the programme and they had their World Championship qualifying round on Easter Sunday, and it was 886 Chris Bradbury who took a heat and Final double on a day that saw the feature race decided in a two lap dash which changed the outcome of the result entirely.  Bradbury has since debuted his new car for 2013 and his previous one has gone to 783 James Rygor who will race as a superstar for the first time this weekend, as the new grades come into force.  Some have gone up, others have gone down and it must be said that there is a very light star grade in the southwest at present.  But, with the like of 522 Chris Mikulla off of the blue grade, largely through missing several weeks due to injury that will not last for long and with other quick blue and yellow graded drivers, the odds on the star men coming through for a Final win could be a lot longer than they might otherwise be.
The National Bangers will have a World Championship qualifying round and this will probably a have a little more local interest on track than THUNDERBOLT, with the easier availability of the cars, although probably fair to say that there will be Ford Mondeos in abundance.   Much the same applies as with Sunday with regard to who may be the ones to watch, and we also hope that some of those who raced with the 'Rookie' Bangers on Easter Sunday will give the Nationals a go this time as it is a good opportunity for them to do so.   The Junior Rods for those aged 10 to 16 are a great starting ground for the young drivers.  For years they were solely Minis and then two years ago it was opened up to other cars.  The Mini was, and still is the mainstay but there are more variety of cars now coming out and now two Austin A40's and one of them in the hands of 700 Ben Brice has won both Finals so far this season.  As a consequence he makes the jump from white grade to red for this time, thus from the front of the grid to the back and it will be interesting to see how he gets on.  300 Charlie Ayles has shown up well too and 956 Harry Thompson has been a first time winner.  Numbers again look strong and some good racing from the youngsters looks likely to ensue. Last but certainly not least, even though they have one less wheel, the Reliant Robins complete the programme and on Easter Monday there were three different winners in 644 Mark Thompson, 78 Mark Bowskill and 445 Nikki Loader in the Final.  As ever, expect plenty of laughs and spills from them on Monday.