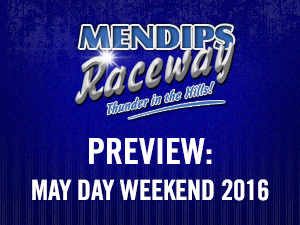 Pinch, Punch, first of the month! The early Spring May Day Bank Holiday, and whilst over folk in the country go around the Maypole in circles, we here at Mendips prefer to go round our track. The first day sees Thunderbolt XVI – a meeting guaranteed to rumble, with support from the Hot Rods and Special Rods and Day 2 sees a good entry of the three formulae as the BriSCA F2 start a busy period for them, the Rookie Bangers in good number and the Robins in true knockabout form…
THUNDERBOLT OLD SKOOL BANGERS
It's the time for the big one for the Unlimited Bangers. Now in its 16th Running, the Thunderbolt has been a staple of big banger action up here at Mendips. Last year, Newton Abbot's Ryan Sparks (246) took top honours in a blistering contest. This year proves to be as big a meeting as we get with big action. Old Skool rules apply to this meeting which means destruction is not necessarily the name of the game, but crashing is key. Names confirmed for the event include Micro Massacre winner Sam Trim (363), veteran Jon Ayles (300) and double heat winner last year, Shaun Brokenshire (278). Expect plenty of top tin!
HOT RODS
The 3rd Meeting of the year for the non contact Hot Rods, and after the somewhat destructive April 10th meeting, we hope for a somewhat more quieter meeting, after the mass pile up which wiped out several cars. The Nortz Agri Engineering Trophy is up for grabs, with the last meeting showing the wins spread out between Dave Tossell (117), Colin White (718) and James Griggs (258). We hope the racing is as close as it always is…
SPECIAL RODS
Our Sierra based class of budget non contact racing are back for their second outing this year. Last time out, 7 white tops started, excellent news for the health of the formula. However it was Steve Brown (108), Ben Brice (701) who took wins before Dene Howard (41) took over taking the third heat and the final and a red grade promotion. Top of the shop, is Andy Pincott (85) with points champion Russ Colenut (426) looking to get back on terms.
NEXT TIME
We are back again tomorrow, 1pm for another action packed day of racing when the BriSCA F2 Stock Cars are back for their second appearance of the year, another good field of Rookie Bangers and the madness of the Robins, complete with a Caravan Race!!
See you then!
 
MONDAY 2ND MAY
Day 2 of the early Spring May Day Bank Holiday, and whilst over folk in the country go around the Maypole in circles, we here at Mendips prefer to go round our track. A good entry of the three formulae is expected as the BriSCA F2 start a busy period for them, the Rookie Bangers in good number and the Robins in true knockabout form…
BriSCA F2
Last time out saw a faultless heat and final display from Paul Rice (890) who took top honours. It's also an opportunity for many drivers to get used to their new grades, following the first national re-grading. Dropping to blue is Steve Gilbert (542) and the returning Jon Palmer (24), whilst ones to watch from yellow include Cullompton's Shane Hector (528). Form men in the Westcountry at the moment include Lewis Geach (111) and Justin Fisher (315), both of whom were due to drop a grade, but ended up getting promoted instead! Matt Stoneman (127) rises to red and has been winning races all over the shop! Debuts are planned for Chris Rampling (600) in the ex Jack Bunter car, and Andrew Cornick (516) who previously raced at Standlake. Mendips legend Mike Cocks (762) returns to F2 with the ex Glenn Sanders (ex734) Higman, now complete with Zetec unit in it. Track Champion Neil Hooper (676) aims to be with us following his trip to the Northampton qualifying round.
ROOKIE BANGERS
After Easter Sunday's sourjourn saw a heat and final double for Jamie "Cookie" Thomas (70),and no doubt he will be once again one to watch. Impressive displays from Ricky Daunton (777) saw him take the Allcomers, and his front of grid start position will make progress for him very advantageous. The form of Ashley Rice (938) is also to be noted, and former Rookie Banger World Champ Jody Jeanes (133) took a win last time out…
ROBINS
Our free wheeling three wheelers are back to play for their regular Bank Holiday appearance. On Easter Monday, it was Tim Weare (304) who stole the show. With Entertainer awards, it's not necessarily about racing, it becomes a little bit immaterial when your performing a mobile tight rope act! Gordon Mintram (101), Peter Hurd (17) and Will Gardener (900) have all won this award. As an appetizer for the up and coming Crazy Day for the Robins, we have excelled ourselves. To conclude the proceedings, we have a Robin Caravan race… Imagine the stability of Robins, add a caravan and the joy their destructions give… and add a few poorly pitched caravans and this simply cannot be missed. More fibreglass on show than the last time you took out your loft insulation! Total devastation!
Both meetings start at our regular start time of 1pm

Admission prices: Adult - £12, Child (5-14 yrs) £3, OAP - £6, Family - £28