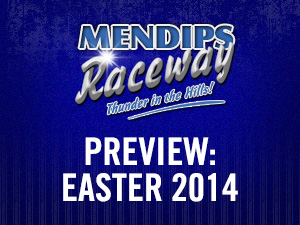 Mendips Raceway will be back in action for the Easter weekend of racing over both Sunday and Monday afternoon and as ever, there will be something for all in the oval racing world in its various forms, with the highlights being the BriSCA F2 Stock Cars World Championship qualifying round on Sunday and back by popular demand then the all Van National Bangers on Monday, all after things got off to a good start here last month with the season opener.
Easter Sunday for the BriSCA F2 Stock Cars for many years has meant only one thing and that is the World Championship qualifying round. Each venue that stages the F2's has one round apiece and today it is our turn, which is actually round four on the schedule this year. Not only that, the Final will be for the annual staging of the fine Gerry Dommet Memorial trophy, remembering the man who built the track in 1968 and operated it until his death in 1998, as well as being a pioneer and leader for the sport almost since its arrival on these shores back in the 1950's. Over the years there has been a lot of lower graded success in this particular trophy, but not in the more recent years and 886 Chris Bradbury was the winner last year, ahead of him winning the track championship for the sixth year running. There is once again a good representation of visiting interest from all four corners of the country, all looking for points on the road to Cowdenbeath in September via the Semi Finals at Mildenhall, on the shale, in August.
The Hot Rods will be racing for the CWS Mears Trophy, remembering former Banger racer Tony Mears. He was a long serving mechanic to 718 Colin White who will be here looking to win the trophy back, on what is set to be a busy weekend for him combining his circuit racing. Last year it was won by 117 Dave Tossell. The Hot Rods were here last month where it was 125 Mike Hibbert who took a heat and Final double of wins whilst 258 James Griggs was also a winner on his return to racing. The Rookie Bangers will complete the programme on Sunday, coming on the back of a good meetings again last year. There really has been a variety of cars and drivers on the track over the past few seasons in the rookies and that is really what the essence of this form of Banger racing is all about. 109 Chris Neville finished up as the points champion last year and will be back on track again whilst last time out for them in October, the West of England Championship was won by 235 Tony Brooks. The majority of success last year was by the like of 246 Ryan and 247 Richard Sparkes and especially the 'Green Team' of 113 Chris and 133 Jody Jeanes and 475 Ben Sealey and they also took the team title along the way, which they will be looking to defend in July.
Easter Monday will see a good mix of classes with the afore mentioned Van (National) Bangers, Junior Rods, Reliant Robins and in a switch of fixtures this year the Heritage Stock Cars, the Junior/FII type will have their visit earlier this year than has been the case prior. For the Bangers reigning overall points champion 54 Tom Davey has confirmed his presence and will doubtless be a big part of the action whilst 27 Dean Quinn will finally get to race his that was on display at our presentation evening back in February. With big names in big vehicles, a huge entry simply isn't needed – but this will be action and entertainment guaranteed.
The Reliant Robins will have a mini-series to look forward to this year with dates also at the Birmingham and Grimley tracks which will certainly see an enhanced entry of them for those. But for this time it is the locals and regulars for the fun on three wheels. 444 Mark Loader and 499 Lee Charles were once again the most successful last year and will be looking to add to that but, as time goes on, a lot of those who have not really raced anything before have really started to get the hang of things and could well be capable of upsetting the form book. But as ever, expect plenty of rollovers as the cars that are not really cars (remember you can still drive one on the road on a motorbike licence) are driven as they were never designed to be! The Heritage Cars actually return to the venue where they became a fully-fledged formula of racing rather than a demonstration one, scarily almost 10 years ago now. Of course these cars themselves date back a lot longer than that as they are replica cars (but still very much real) of the BriSCA F2 (or Junior as they were known at first) Stock Cars from the era of 1961 to 1972. Thus, when we opened here at the beginning of 1969 this is what the thousands who came here would have witnessed thrashing around the track. Last year's visit saw 763 Andy Bateman take two victories.
The Junior Rods will round things out and there were several new faces and names as well as new cars last time out and one of them took his first victory here in 190 Ewan Gumbleton whilst another son of a well known Banger driver 300 Charlie Ayles took the Final. Hopefully they will both be back again for more this time ahead of what will once again be a closely fought points chase once again, all culminating in the West of England Championship in September.
Both meetings start at 1.00pm with a grand parade of cars.