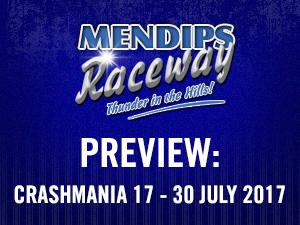 Racetime again, and after the broo ha ha of the F2 British, you'd think we'd like a quiet meeting to get us back in the swing. How wrong you are! It's time to think pink again, as the raceway goes fuschia coloured as we host the Pink Ribbon Trophy for the BriSCA F2, and Filo's Crashmania for Micro Bangers, with Special Rods playing support….
BriSCA F2 – The PINK RIBBON TROPHY
Matters more domesticated for the BriSCA boys as they return for one of the highlights of the season here at Mendips – the Pink Ribbon Trophy in honour of former very good friend of Mendips – Lesley Maidment.
Defending the trophy is her son Nathan Maidment (935), who won the trophy for a second time last year. Nath was one of the undoubted stars of the show on British Weekend, taking 4 race wins over the weekend, starting on pole and getting scrubbed off Gordon Moodie's (7) Christmas card list, after the British first corner.
Indeed, Moodie will be looking to continue his fine run of final wins here, 3 from the last 4. Other contenders for top honours would be Chris Bradbury (886), fresh from an invigorating win for the ultimate track champion here.
Plenty of additional sponsorship is up for grabs on what promises to be a cracker of a meeting.
In other F2 news - Chris Burgoyne (647) is on the road to recovery following his horror smash at the end of the Saturday meeting of the British weekend. Following a stay in Weston Super Mare Hospital, he returned home after suffering a broken vertebrae. Our best wishes are sent to him - an awful way to finish his year as British Champion.
BANGER TEAMS – FILO'S CRASHMANIA
For the Bangers, it is an equally poignant day, as they remember a true legend of these hills, Phil Cleverley, better known as Filo, in a meeting befitting his racing style. Team racing is the name of the game and tactics will be at the forefront as drivers protect their brethren and attack any of those who aim to tag their team mates.
Last year, it was a rookie team meeting and Team Red and Gold of the Rices and Styles who were victorious.  
This year, National bangers, Micro style so new drivers and different cars but plenty of action from the pocket rockets. Likely contenders for the win will be the Boogie Team for sure, with Wallie Wash and All Blacks in contention, plus dark horses Heatmans Team, who we have not seen before.
SPECIAL RODS
The budget rods come out to play, and with it another chance for Sierra on Sierra action, their first meeting since the end of May. Points leader Russ Colenut (426) took a heat and final double and opened up a 53 point lead over Ben Brice (701) who also took a win at the last. Andy Hawkins (81) and Dan Latimer (720) were also race winners last time.
THE MENDIPS SOAP BOX DERBY
You've seen it on Dave (maybe after that episode of Joy of Techs!) where mad loons take to the streets of cities around the world in contraptions that VOSA would struggle to pass roadworthy. Magnificent jalopies will be piloted up and down the Mendip Hill – all to raise vital funds for Cancer! No bovine of the scarlet kind allowed! Other events include a raffle for 5 laps in our two seater stock car, driven by a mystery F2 stig!!
The racing starts at 1pm, but get there early to see the madness – oh and don't forget your pink!