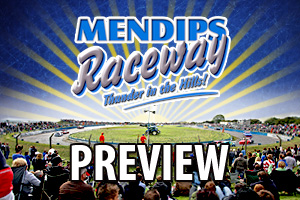 Mendips Raceway's next meeting is on Sunday July 8th, and for the first time, we are running an all diesel banger meeting, in response to driver requests, plus there is lots of non contact racing for the Juniors, Special Rods and Hot Rods.
The Juniors will be missing Macauley Mills (404)  today, as he has turned 16 years of age and is having his first outing in a Banger! Father Rob, who has raced here for twenty years or so, has had a rush of enthusiasm, and the two will appear together, both racing in diesel bangers. The limit is set at an engine size of 2.4litres, and turbo charged engines are permitted, but let's face it, most diesels are turbo nowadays, so we should have a great variety of cars to watch. For sure the drivers will be asking for a Destruction Derby at the end of the meeting, as these  are a one day car only, so I think that will be quite likely to take place!


The Juniors are a little down in numbers lately, but certainly not lacking in skill, Most unusually, we have a high proportion of girl racers at the moment, and they are very competitive too. I think there will be a female winner of the Points Championship within the next couple of years. Zoe Cambridge (273) is running third at the moment, and not far away are Sam Crane (24) Beth Stevenson (61) Jordan Edwards (224) and Charlie Norton (203), so the boys had better watch out!  Aaron Loader (362) will be taking over the Mills Nova, as Macauley is now out of Juniors, and hoping improve his performances accordingly. The introduction of different cars has not yet seen off  the good old Mini, and next month we shall have the first Fiat racing here, as another Junior reaches his 11th birthday and joins us on track.
With Colin White away last meeting racing in Spain, the last meeting was a good chance for Steve Hunt (282) to add some points to his total, but alas, the horrible wet weather made quite a difference to the expected results. This was very good news for Alistair Lowe (55), who made off with the first heat, and for Larry Langmead (18) who took the magnificent Parkhouse Trophy, or at least, he would have done if Steve Hunt had remembered to bring it! Heat two went the way of Wilson Hamilton (904) and so the points championship leader didn't get a win all night. It certainly was an awful night-reminiscent of 2004, when the weather was so bad we had to abandon the meeting, but although it wet, it was a great meeting to watch.
Special Rods have had an influx of new drivers this year, and a couple have been runaway winners, such as Andy Latimer (120) back after a ten year sabbatical, and now Tom Major (441), who has not raced here much since he left the Juniors, but has now returned with father John (42)'s car, and cleaned up for two meeting. Tom is now regraded back to red, so it will be a little more difficult this time. Richard Howard (47) was the pick of the star men last time, and his influx of points has taken him to the top of the current chart, but it is very close there, and anyone could win it still. Paul Barnes (210) has had a rough time lately, but compensated somewhat at the last weekender by lifting the British Beef Trophy after what they were all calling a 'proper banger race' with track blockages, and lots of heavy action. Paul had prepared a superb Cortina, which featured at the Dinner and Dance last February, and it went as well as it looked, and almost won the Destruction Derby as well.
So, we hope you can join us on Sunday,  and a reminder that our next meeting is Sunday July 29th for the Banger Olympics-an all banger fun day-starts at 1pm!
Remember - we NEVER cancel!