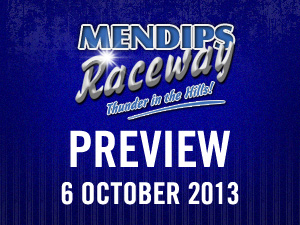 So here we are for the last time in 2013, our 45th season of racing about to be consigned to the history books and we are certainly looking on going out on a high on a season that has seen many significant and memorable events such as the Old Skool Unlimited Banger meeting, the BriSCA F2 Stock Cars World Championship Semi Finals and, a fortnight ago, the highly successful visit from the National Hot Rods.   These are to name but three, it has been great on the domestic scene too and it is really on this end that we wrap things up for the year today with the West of England Championship triple header for the Rookie Bangers, Special Rods and Junior Rods.
The Bangers West of England Championship is the oldest Banger racing title in the region, and indeed the country as a whole, dating back to 1978 with some famous names amongst the winners over the years such as Kevin Stack and Shane Brown to pluck two.   Back then Banger racing was, well, basic and as we know over time moved into being a meeting for what we became to know as Unlimited National Bangers.   The big cars are still a great spectacle but various factors have seen them on the wane in recent years, and with the Unlimited World Championship Ipswich, the meeting they all want to race at being moved to October (next week in fact) from November it rendered it almost impractical for us to run the WOE for Unlimited National Bangers.  Thus after much thought, the decision was made to go back to the basics last season in which the race was founded 34 years ago, and run it for the 'Rookie Bangers'.  It proved to be the correct one, and with numbers in the Rookies continuing to be very strong this season there is no going back now.  However, when we last saw them here there were a number of drivers who appeared to get their classes muddled up.  It has been written and said many times, but Rookies – whilst not necessarily for 'new' drivers are intended to be a fun class, where a driver can get a car and race it with only the required 21st century safety measures and whilst contact, it is nudge and spin.  For those drivers who want to go in with the hard and 'glory' hits, National Bangers are still available… Unfortunately several drivers fell foul of the rules over the August Bank Holiday weekend and have lost their opportunity to race in Rookie Bangers, some short term, others longer and will not be here today.  Last year's title race went down to a dramatic last bend finish between brother 246 Ryan and 247 Richard Sparkes, with the latter getting the better of his sibling.  Whilst not booked at the time of writing, it is hoped that Richard will be with us to defend his title.  There is also the matter of the points championship to settle.  Over the afore mentioned Bank Holiday at the end of August 475 Ben Sealey won the Final on Sunday and it was a heat and Final double for 668 Paul Mortimer on the Monday, who as the leading Mendips Raceway registered driver is looking good for the silver roof, but still today to come and an awful lof of competition.
The Special Rods are all Sierra and a budget class non-contact racing. The West of England Championship has seen some great races in recent years and there is every reason to expect more of the same this time as they fight it out for the title, won last year by 18 Russ Colenut and he has remained the main man this season, including the Final last time out and thus is probably the favourite for the title once again.  It is not that simple though, it will be close.  They will also have the points title to be decided, which, yet again has gone down to the wire with Colenut in contention along with another former winner 47 Richard Howard whilst 122 Joe Rowe keeps an outside chance.
The youngsters continue to provide some good and close racing, and now a very wide variety of cars in the Junior Rods since they moved from being 'just' Minis a few seasons ago now.  However last year's points winner 510 Sid Harrison's Hillman Imp might look good but he struggled for pace in it.  Much like the Special Rods they will have their points to be decided as well as the West of England.  Last year the WOE was won in the rain by 87 Callum Richards and in a classic case of it not being over until it's over, the meeting before the last, he looked the shoe-in for the points.  However a clash with 39 Sophie Harris in the Final last time has brought 362 Aaron Loader right in contention with the points.  16 Dan Milverton took a heat and Final double at that meeting too, and whilst he is too far back in the points 700 Ben Brice was another who had a good day and he could come from behind, in his Austin A40 to win, so it really is game on for the two biggest prizes of all this afternoon.
So that is season 2013, another that has gone by in the flash.  We will be back in the new year though with all the favourites and do not forget in the meantime the ORCi Banger 2 litre Open Meeting at Arena Essex next month and also our annual dinner, dance and presentation evening at the Webbington Hotel in February – details within this programme and do not forget www.mendipsraceway.com for all the other latest info.  But for today, enjoy what looks to be a great meeting.