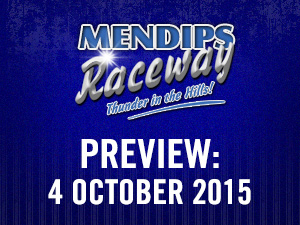 Sunday October 4th will be Mendips Raceway's final meeting of the 2015 season. This weekend we will be crowning three new Champions as we present the West of England Championships. All three formulae racing today will be racing for this title in their individual formula, from the 11-16 year old Junior drivers, right up to the Unlimited Banger boys, and in between, the Speclal Rods.
First the Juniors, who have had a busy season with a lot of new drivers joining the formula in a variety of cars. Such is the nature of our very basic build that almost any car can score points with the right drivers, and the variety of cars from the Mini, Nissan Micra, Ford Fiesta, Fiat, and even Citroen is competitive in this form of racing.
Charlie Ayles (300) goes into the last meeting with a very good chance of retaining his Points title which he won jointly last year in a thrilling finish with Ben Brice(700), but Becky Pearce(66) has chased hard all year even after a huge accident when her car rolled over and was written off. The family just knuckled down and built a new one ready for the next meeting and her speed was undiminished! Jordon Edwards (224) is there in third place after her best season to date, and the rest of the drivers in the top ten are quite close. With 30 points available today, it's not over yet!
Special Rods have had a steady season, enlivened in the later months by the two young drivers that have joined the formula in the persons of Ben Brice(700) and Henry Murray(784). Ben has had an exceptional run in the former Andy Pincott car, and was winning on his debut after four years of rear wheel drive practice in his neat little Austin A40 Junior. Henry has had just one outing in his self built car, but the smile on his face showed that bthe work and wait had been worth it, so good luck to him.
At the top of the points table sits Russ Colenutt (426), the veteran of the formula showing that he can still work his magic in these very competitive days, but Dan Latimer (720) would have been much closer had it not been for a disastrous meeting last time.  Tim Weare has been there and there abouts, and still runs in third place, and as we have not yet decided the format of the Championship race at the time of writing, either of the big three could be in with a shout at the end of the racing. Darren Foss (993) has had a very strong year, and Ash Raymond (192) is also in his highest point in the tables so far in his career. From a late start, Joe Rowe has been piling on the points, and so we have some very strong contenders for victory to finish the 2015 season.
After three years of running the West of England Championship for Bangers (rookies), the race returns to Unlimited National Bangers, albeit in Old Skool format. This type of racing is really taking hold as drivers who want to race in the big cars without the huge crashes that have permeated the formula are tempted back to the ovals.
The starting point for this was the inaugural Graham Salter Tribute meeting in 2013, and the movement has grown from there with no less than 118 cars racing last June! We don't expect that today, but we should have enough for a good event. These cars are built to National banger specifications but raced in a restricted contact way until after the Meeting Final, when it is no holds barred for the Allcomers and Destruction Derby.
We should congratulate the Bugler brothers Steven (252) and Rob (262) who have qualified for the World Championship next week at Ipswich, having taken part in all the Qualifying Rounds and outscored every other driver to take the coveted places on the grid next week. Veteran driver Scott Weldon (517) ran them close last week at the final Round, but it was not to be for the Warlords driver.
The Graham Salter Tribute meeting will return again on June 26th 2016, and we are also planning a brand new even for Old Skool Unlimited Bangers on Sunday May 29th-further news to follow.
We are busy planning our 2016 season, and can confirm that our opening meeting will be on SUNDAY MARCH 27th 2016, with  the annual Formula two Stock Car World Championship Qualifying Round, with Practice Day on SATURDAY MARCH 5th
Until then, keep an eye on this website for all the news, and follow us on Facebook!