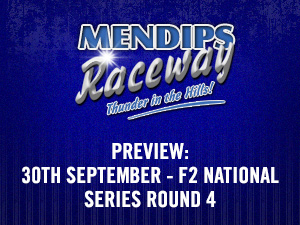 PREVIEW AND BOOKING LISTS
The penultimate meet of the season, and whilst many are on the wind down the action keeps coming!
BRISCA F2 – National Series Round 4
So it maybe a bit like after the Lord Mayor's Show, but the season for the BriSCA F2's comes to an end in fine style, as the contenders for the Silver Roof decend on the second of two westcountry rounds. The line up is headed by the first 3 drivers on the world final grid, new World Champion and reigning silver roof, Gordon Moodie (7), British Champion Chris Burgoyne (647), and Kelvyn Marshall (101), with 3 points separating them going into this weekend.
Domestically, the points title for the track is up for grabs with Matt Stoneman (127) and Steve Gilbert (542) battling it out, with the latter coming off a third place in the world final. Chris Mikulla (522) and Justin Fisher (315) were both final winners on World weekend, and both have been upgraded to red.
It is also our Whites and Yellows Final, where we have 9 TYRES up fr grabs!
National Series Standings as of 25/9/18
Pos. No. Name Pts. Att. Skeg NIR Taun Bris Sheff KL Mild Birm Cowd Bar BV
1 101 Kelvyn Marshall 50 2 27 23
2 7 Gordon Moodie 49 2 35 14
3 647 Chris Burgoyne 47 2 23 24
4 298 Jake Walker 18 1 18
5 12 Daniel Ford 11 2 0 11
6 722 John Broatch 10 2 10 0
7= 527 James Riggall 4 2 0 4
7 761 Rich Bowyer 4 2 4 0
7= 852 Adam Blacklock 4 2 3 1
10 618 Ben Lockwood 3 2 3 0
11 305 Colin Gregg 1 2 1 0
NATIONAL SALOONS
Well, the stars of the show last time, the tin top tearaways of the national Saloon stock cars, put the bumper in hard. First time in a long long time, 2 meetings for the saloons here at Bristol. Last time out, Carl Waterfield (360) took a heat and final double – Waterfield however is unlikely to take part after suffering a big crash at Skegness . Ryan Wadling (476) has made the transition from F2 to Saloons, and took full advantage of his track knowledge to a race win last time out. We are certainly looking to get a few meetings again next year…!
HOT RODS
The last one of the year for the non contact boys – fresh from their West of England Championship, which saw Jamie Bryant (611) take top honours, and Mark Shelper (788) rapid in his new colours. Veterans Colin White (718) and Steve Hunt (282) didn't have it their own way in the West of England, with both the drivers not making it in the first lap. However it was a last lap not to remember with the Hot Rods going into DD mode, which curtailed the championship race.
UNDER 1800 B2B BANGERS
The fun in Bangers is on its way back, thanks to the B2B Bangers, a Saturday morning build job. The joy of this formula, is that it brings back so many ex drivers and also new drivers due to the simple fun nature. We welcome back the Bilge Brigade 309 Chris Parry and 328 Mike Parry, hopefully in something old and French! Also recently crowned Rookie Banger Points Champion 956 Harry Thompson is booked in the B2B ranks this Sunday.
We start at 1pm, turnstiles open from 11am, pit gate open at 10:30am!
Food, Drink and chairs are welcome, as are dogs so long as they are kept on a lead at all times and all poo picked up.
Lets go Racing!
B2B Bangers
6 Danny Greening Exeter
7 Jamie Charles Bristol
23 Clive Crockford Bath
26 Russell Gillingham Glastonbury
53 James Clarke Apperley
55 Alan Machin Bristol
70 Amie Trott Bristol
111 Rhys Lansdown Bath
122 Jimmy McDermott Bath
126 Darren Willis Godney
157 Ebony Hooper Yeovil
175 Gary Hunt East Brent
194 Alistair Buchan Pignton
199 Tom Pearce Dundry
211 Adrian Coles Wellington
220 Mike Stephens Bristol
226 Chops Willis Glastonbury
281 Sarah Pearce Bristol
298 Dave Greening Cullompton
308 Steve Fletcher Weston Super Mare
309 Chris Parry Worcester
314 Jason Barraclough Frome
328 Mike Parry Worcester
335 Albert Hughes Bristol
362 Aaron Loader Weston Super Mare
386 Bobby Stilgoe Weston Super Mare
440 Macauley Mills Trowbridge
455 Shane Kennard Dunkenswell
595 Ben Wall Weston Super Mare
616 Daniel Moore Weston Super Mare
700 Les Brice Tiverton
701 Ben Brice Tiverton
743 Jake Bond Bridgwater
775 Brad Hunt Highbridge
894 Chris Stokes Westbury
956 Harry Thompson Weston Super Mare
F2
White
91 Harrison Bryant Bath
517 Harley Cornock Cheltenham
572 James Lindsay Plymouth (TBC)
660 Becky Pearce Dundry
663 Bryan Lindsay Plymouth (TBC)
762 Mike Cocks Weston Super Mare
851 Gary Smith Radstock
Yellow
4 Martin Ford Sheffield
53 Phillip Mann Bolton
223 Sean Porter Okehampton
325 Ryan Sheehan Chard
328 Andy Walker Cheltenham
398 Ian England Taunton
438 Mike Rice Cullompton
528 Shane Hector Tiverton
828 Julian Coombes Exeter
895 Ben Goddard Burnham On Sea
976 Dan Kent Clevedon
Blue
24 Jon Palmer Plymouth
111 Lewis Geach Newton Abbott
245 Nigel Fordham Newton Abbot
282 Anthony Riley Accrington
359 Gary Wrench Crewe
667 Tommy Farrell Plymouth
Red
h124 Wim Peeters Netherlands (tbc)
127 Matt Stoneman Uffculme
315 Justin Fisher Newton Abbott
468 Sam Weston Bridgwater
522 Chris Mikulla Weston Super Mare
542 Steven Gilbert Doublebois
935 Nathan Maidment Milborne Port
Superstar
7 Gordon Moodie Fife
12 Daniel Ford Chesterfield
101 Kelvyn Marshall Macclesfield
298 Jake Walker Chesterfield
305 Colin Gregg York
527 James Rigall Skegness
560 Luke Wrench Crewe
618 Ben Lockwood Huddersfield
647 Chris Burgoyne Falkirk
722 John Broatch Northallerton
761 Richard Bowyer Hales Owen
852 Adam Blacklock Lanark
Hot Rods
4 Jamie Oates Four Marks
35 Neil Muddle Bridgwater
57 Graeme Taylor Aldershot
258 James Griggs St Austell
536 Jeff Johnson Trowbridge
611 Jamie Bryant Bath
718 Colin White Glastonbury
788 Mark Shelper Bristol
Saloons
27 Kieren Bradford English Champion
56 George Boult Jnr. Blue
84 Carl Boswell Blue
116 Diggy Smith European Champion
171 Adam Odell Blue
199 Philip Powell Blue
214 Tom Yould Yellow
276 Ben King Blue
399 Cole Atkins Red
428 Lee Sampson Red
444 Kieran Bellringer Yellow
447 Adam Hicks Yellow
470 David Vaughan Yellow
476 Ryan Wadling Blue
529 Jason Secker Red
620 Aaryn Triggs Red
641 Willie Skoyles Jnr Red
720 Shane Brown Red
730 Deane Mayes British Champion
799 Joseph Powell Blue
800 Scott Greenslade Yellow
902 Junior Buster Yellow