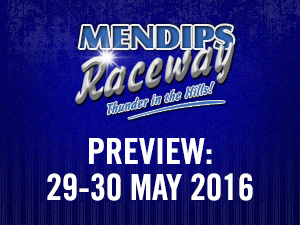 Bank Holidays are like your local bus route, and May is like that time when 2 buses turn up in quick succession. The Whitsun variety gives us a healthy mix of racing, the Sunday highlight is the Old Skool Unlimited Banger World Final, the Robins in crazy mode, and the F2's in able support. Monday sees Rookie Bangers, the Hot Rods racing for the Andy and Loreen Trophy, and the Special Rods and Junior Rods get another run out….
SUNDAY 29th MAY
UNLIMITED OLD SKOOL BANGER WORLD FINAL
All eyes are on the Bangers for what should be a good meeting. The Old Skool World Title is up for grabs in what should be highlight of the season for the Old Skool Banger fraternity, in the inaugural World Championship. Racing over two randomly drawn semi finals and a last chance- with emphasis on racing and not big smashes to qualify for the big, closed grid race. Entrants have come from far and wide, and a varied names of competitors. Previous Thunderbolt winner Ryan Sparks (246), along with Micro Massacre winner Sam Trim (363) head the entry, both having the knowledge of the quick way around the circuit. Visiting interest comes from Colchester with the James' Robert (132) and Michael (174), and then there are those more local like Slug (270)! Finally, with veterans Nick Courtier (114) and Steve Hunt (282), some cheeky folk might say that they were there when the Old Skool was built! More familiar rules then apply for the all comers, and then we round of the day with a DD.
ROBINS – THE CRAZY DAY
After the madness of the Robins Hare and Hound Caravan Race which brought the curtain down to proceeding meeting, the Robins will be in crazy mode again with a variety of wacky races that would make Dick Dastardly and Mutley proud. In previous years, this has included "wrong way round", Figure of 8's, pairs, and ramp races. Entertainment guaranteed!  Last time out, the wins were shared out between Cliff Worthington (437) and Darren Feltham (364), and the Entertainers were Worthington, Sam Mannell (333) and Darren Russell (16) who in one race had more rolls than your local sandwich shop!
BriSCA FORMULA 2
A third outing for the Formula 2's here at Mendips, and with hopes of finally some better weather. The field is led by reigning Track Champion Neil Hooper (676) who is looking to join for his second leg of 3 meetings over the weekend. Chris Mikulla (522) is also going to be present, hoping to prevent a drop to blue for June by taking a final! Last time out it was a low grader shut out though, with Cullompton's Shane Hector (528) taking a first ever final. Shane aims to be with us again, albeit this time with a blue roof. Sam Weston (468) is another recent final winner, and he returns to the blue grade after taking top honours at Birmingham. There should also be a debut for ex Banger driver and long time friend of Mendips, Chris Rampling (62).
MONDAY 30th MAY
HOT RODS
With things being fairly equally shared at the moment in the Hot Rods, these are exciting times for the non contact racers. James Griggs (258), Mike Norton (205) and Colin White (718) took the wins last time out. Indeed the "Andy and Loreen" Trophy is again up for grabs in the Spring Classic, and it is Griggs who is defending that particular trophy. Keep your eyes peeled, as the action comes quick and fast and the closeness of the racing this season has been nothing short of exceptional.
ROOKIE BANGERS
Another busy field of the ever popular Rookie Bangers graces us with their presence again. Early Track Championship leader Jamie "Cookie" Thomas (70) leads the entry, after another race win last time out in the consolation, after Kev Styles (38) and Ashley Rice (938) took heat wins. However, it was Noddy (284) who took the big win. Tom Davey (54) maybe one to watch if he can stay out of the trouble that always seems to find him!
SPECIAL RODS
The budget non contact class gets another run out, and with it a variety of winners to watch this time around. Veteran Steve Brown (108) was a race winner on May 1st, along with Dan Latimer (720) and Andy Howard (43). Top honours last time went to Tim Weare (304), the man of many formulas!
JUNIOR RODS
For the kids, the minis, micras and various small hatches are hurtling around the track for another go. It's turning into a bit of the battle of the sexes if the last meeting was anything to go by, as the wins were shared by Becky Pearce (66) and Josh Weare (36). Becky might not have it all her own way as brother Charlie is making inroads on her. As many are second (or even third!) generation racers, this formula remains a good little grounding in race craft before following their relatives into senior formula.
Both meetings start at 1pm.