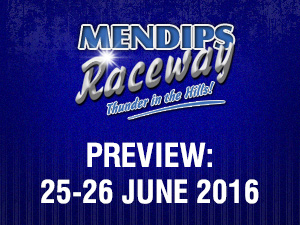 The traditional Midsummer weekender here at Mendips for what should be a barnstorming weekend of action. We start with a healthy mix of action, with our first foray into the world of Back 2 Basics Bangers, the Hot Rods, the Robins getting a night-time run out and as special guests the world of MASCAR join us.
Saturday June 25th at 4pm  PLEASE NOTE EARLIER START TIME
BACK TO BASICS BANGERS – JASON AYLES FAREWELL
We pay tribute to one of the legends of the Banger scene in the South – Jason Ayles, on what will be his last blast before he hangs up his helmet for good. And what good company he holds tonight as we have nearly 100 bangers booked in for this tribute meeting. For those not familiar with Back to Basics Bangers, it is simple preparation, strip it out add a roll cage and nothing else fancy added. With the emphasis on fun it will be an opportunity to have a bit of fun in honour of Jason. Even his family are involved, with father Dave, brothers Jon, Greg, Colin, plus his sons Jack and Charlie, and there is a rumour that 'er indoors Emma might even be competing in a special one of Ayles Family Race, which we think could well be a first for the Westcountry. Some old "legends" and blasts from the past are coming out to play as well. 3 super star studded heats for the Bangers complete with a twilight DD to end of proceedings!
HOT RODS
A spot of night time non contact high speed close quarters action is here as the Hot Rods for the Parkhouse Trophy. Last time out, Ryan  (71) prevented a Colin Whitewash (718), but it was the Glastonbury man White who took the rest. This time last year, it was James Griggs (258) who took the win – who knows what could happen this weekend, seeing having "Griggs on Fire" seems to be flavour of the month! The points championship is very close between Griggs and White – just 2 points separate them.
ROBINS
After the madness of the last two meetings, some relative stability and normality, (well as normal as they get) returns. On Crazy Day there were race wins for Darren Russell (16), Dan Tytheridge (3) and the pair of Stacey Howe (119) and Micky Ford (266) took the pair home. Tim Weare's (304) consistent approach has seen him climb to the top of the points chart.
MASCAR
The MASCAR series return to Mendips Raceway for their annual visit., with plenty of cars booked in ready to entertain and excite the local crowd  it should be a spectacle not to be missed ! These unique American styled miniature Nascars are fast and exciting to watch.
Sunday June 26th at 1pm
BANGERS
The second day of the weekend features the annual Graham Salter Tribute meting honouring a great drivers from the past who left us far too early, and this meeting has become a must do for many drivers, even if they only race once a year, in Unlimited Bangers. The meeting is Old Skool style with the emphasis on racing until the Final has been run, when full on banger action takes over , with allcomers and Destruction Derby races! Over 90 drivers are booked to take part.
JUNIOR RODS
The youngsters return for another go in the small hatches and minis with them cutting their teeth on the Mendips Oval. Becky Pearce (66) showed the boys how its done by taking 2 heats on Whitsun Monday, with Josh Weare (36) taking the other heat. Dan Kent (376) took top honours in the final. Weare now has an 11 point lead at the top of the points charts.
HERITAGE STOCK CARS
Going back to the olden days, we welcome our good friends from the Heritage Stock Car movement.
Harking back to the halcyon days of the 1950's and 1960's, and the cars that first raced here back in 1969 and other stadiums like the old defunct Knowle. Some of these cars are replicas, some are actual cars, and some of the drivers could be described as Heritage. ….
Camping is available over the weekend at £10 per unit per night, so why not join us for both meetings?
ADMISSION PRICES
Saturday Admission is £12 Adult, £6 Senior, £3 Child, £28 family
Sunday Admission is £15 Adult, £6 senior, £3 Child, £34 family