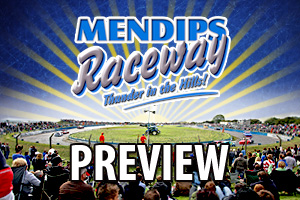 Mendips Raceway's annual mid-summer weekender is coming up at the weekend and remember once again that we will be getting underway at 5.00pm on Saturday, so what could be termed as a "tea time" start - this will allow us to get through the meeting without any worries about light and then on Sunday because we have such a busy programme of racing, we will be starting half an hour ahead of the usual start time at 1.00pm.
The National Bangers will be with us on both days, and significant events both too with the annual under 2 litre all-Ford rear wheel drive "British Beef" session on Saturday and then the 2 litre Summer Open meeting on Sunday afternoon.
The weekend has attracted a great entry once again, with entries still coming in at the time of writing it promises to be another great one. There once was a time when the Ford really was the staple diet of Banger racing in this country, with many tracks even running successful non-Ford meetings to encourage the build and use of other cars.  However, as times moved on so the Ford waned, and all eyes turned to the far east although that has now of course reversed in the past few years with the use of the (very strong!) Mondeo and for instance it is highly possible it will be almost all of such that we see on Sunday.
However it is the rear wheel drive that we will be seeing on Saturday, with an air of nostalgia and an "old skool" approach around it with the Capri's, Cortina's and Sierra's – the latter of which never really took on in Banger racing but do appear at this and some more are expected this time.
Driver wise, there is a very healthy contingent heading up from the south coast, just as they have done for this meeting and this season in general, with some very useful drivers amongst them such as current points leader 262 Rob Buglar.  Last year it was 198 Marcus Goldsmith who took the honours, after very nearly winning in 2010.
Obviously the main talking point for any National Banger meeting here is this seemingly on-going battle between the DWO's from down the M5-v-the locals/south coast.  Headed by big names in World Champion 162 Brett Ellacott and 190 Steve 'Pikey' Bailey as well as 239 Steve Carter, they are doubtless to be in the thick of it all, and capable of winning too. We thank Steve Stockley's Riverside Café for their sponsorship on the British Beef meeting once again.
Sunday is intended as an open meeting, although there is the clashing English Championship meeting at Buxton, which coincidentally we staged at this meeting last year, and was won by Ellacott.  This will mean that many of the big names etc will be headed even further up the M5 and on the M6 and with entries coming in from more locally based drivers it is looking like it could be a good chance for some drivers to get what they have on track, and there is a very handsome prize fund on offer too.  So a chance, perhaps for Buglar to add to his points, 54 Tom Davey who won on Bank Holiday Monday likewise and remember that anything left over from British Beef is welcome for a second go too.
Saturday evening will also see the annual outing here for the Heritage FII Stock Cars, as well as what were largely then known as the Juniors, we will also see the Heritage F1's, originally known as the Seniors back again and they will have some of the very old machinery on track, which dates back to the very beginning of the sport here in 1954.  There is a very good entry of those too, including Peter Fenton's Potent Mix.
With the F1's, there is an air of more of a demonstration whilst in the FII's, many of whom are ex-drivers of the period considered of 1961-1972 things are sometimes taken quite a bit more seriously.  Last year it was 763 Andy Bateman and 505 Mick Whittle who shared the honours.
The Hot Rods will be going for the Parkhouse Trophy, which was won by 282 Steve Hunt last year, himself with a very long history in the sport and long association with Bangers as well as Hot Rods.  This season though has seen be he and 718 Colin White well to the fore, and on his visits 904 Wilison Hamilton has joined them whilst 258 James Griggs has got better with each meeting, and is now a threat to them all.

Sunday will see the BriSCA F2 Stock Cars for their fourth meeting of the season here, and the question is, who can stop 886 Chris Bradbury as he has swept to all three Final victories so far and in a variety of track conditions too.  Whether he does or not, an unprecedented fifth track championship in a row is looking increasingly likely.  Local star 522 Chris Mikulla has looked good this season though whilst in the previous two meetings it has been 53 Phil Mann and 464 Matt Linfield who have challenged him respectively.
It will also be the second round of the Rookies Reward for the white and yellow graded drivers.  734 Glenn Sanders was the winner of round one earlier in the month on what was his first victory in F2 Stock Cars.  It was pleasing to see a healthy enough entry for that too, and we hope that is the case this time with the big money Final coming up at the September meeting.
The all Sierra Special Rods have continued to impress this season – yes, they are 'old' cars now but in terms of getting cars on track and good racing they are faultless and as long as this can continue then the status quo will remain.   Last time out on Bank Holiday Monday 441 Tom Major took a heat and Final double of wins as the young driver proved untouchable in the Final, with the frantic dice being through the traffic with 47 Richard Howard beating 18 Russ Colenut to second place.
The points in this mid-way part of the season could not really be closer with Colenut just ahead of reigning points champion 23 Ross Stuckey and Howard, whilst 210 Paul Barnes, a driver well known for his Banger exploits but now a big star in the Sierras is not far back either.  One bad meeting for any of them will change everything, so they have everything to race for.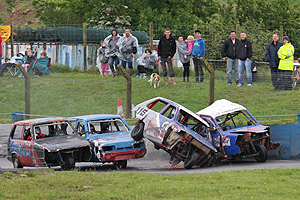 Finally the Reliant Robins are back on Sunday, switching from the Saturday as has been the norm in recent year and they come after what was another successful 'Crazy Day' over the Jubilee weekend.  Although, maybe the 'Football Race' was not so, but the Pairs was definitely so and whilst so many opted to sit it out, those that did partake put on a great show.
With the extra points being offered for entertainment – as that is what the Robins are all about, the chart is taking a slightly different look as a consequence but not quite at the top as 499 Lee Charles remains the king on three wheels with almost double that of his nearest challenger which are 445 Niki Loader and 3 Dan Tythridge who are the only drivers to beat him in an 'ordinary' race this year.
Once again – do not forget the earlier start times, especially on Saturday.  We will see you there!