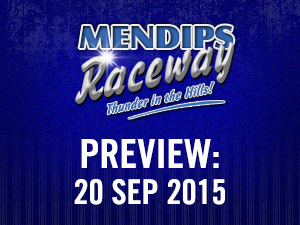 Mendips Raceway will be back in action this weekend, for the penultimate time in season 2015.  For two of the four formulae on duty, their track points championship's will be decided and for another, history will be made with their first appearance at the track.
The BriSCA F2 Stock Cars will be one of those where the track points will be decided.  Before that though, the annual final for the 'Rookies Reward' open only to white and yellow graded drivers, who qualified through the three rounds earlier this year.  Whilst it will not see a huge field of cars, it is worth winning with Yokohama tyres for the top three and enhanced prize money too, and we would like to thank our loyal sponsors of the event Merv and Mary Maggs.  For the first time in a number of years, the track points have come down to the last meeting and it looks to be a three way fight with a further two mathematically in with a chance too.  2013 World Champion 783 James Rygor leads the way on what has been a topsy turvy year for him on the whole but only ten points ahead of 522 Chris Mikulla, who won the Final here last time and has since followed that up with two more at Taunton.  676 Neil Hooper was the last track champion other than Bradbury and despite the deficit, could be considered the favourite whilst outside bets are 111 Lewis Geach and 542 Steven Gilbert.
The Hot Rod have shown plenty of good and close racing all season long again.  Their last outing just under three weeks ago on Bank Holiday Monday saw 125 Mike Hibberd add the West of England Championship to his 'Outlaw' World title he gained a few weeks earlier.  So without doubt one to watch on Sunday but the points championship looks likely to go to the veteran 282 Steve Hunt, although 258 James Griggs is mathematically in with a chance of catching him.  With 718 Colin White set to be present it will make it all the more competitive.
Even in our 46th season there is time for a first, and Sunday for the first time ever, we welcome the ORCi Stock Rods to Mendips Raceway.   They are a much more budget form of Rod racing, doing what it says on the label really with cars up to 1400cc and whilst there is a huge list of permissible cars, you will see they are largely the Vauxhall Corsa and even a few Nova's with the odd Peugeot in too.  As a national class, to reflect that we will have some visiting interest in the shape of the recently crowned World Champion 83 Michael Bethune, all the way from Scotland for what will be his track debut.  Others to look out for will be the current Autospeed points champion 776 Simon Jones, and just as with their bigger brothers, the Hot Rods, expect to see plenty of tight racing and we thank our old friend Neil Truran, of Neil Truran Motorsport for his sponsorship of the meeting, and indeed being instrumental in it happening.
Last but by no means least, the National Bangers and for what is actually now the only and only time this year it is a full Unlimited National rules meeting (note that Thunderbolt, Graham Salter Tribute and next month's West of England Championship are or will be to Old Skool rules), and with World Championship qualifying points too – the last round ahead of that big date at Ipswich next month.  What this will do in terms of what goes on track remains to be seen but coming into today, the brothers from down in the New Forest 252 Steve 'Boogie' Buglar and 262 Rob 'Roona' Buglar look to be on an unstoppable path to East Anglia, with their big scores last month simply enhancing their position.  517 Scott Weldon isn't far behind though whilst mathematically – yes that again – 739 Jason Moore and 440 Mac Mills are not out of it either.  Interesting times and will give a chance for those who do love the sights and sounds of the bigger cars for a look, and ditto those who prefer to race them too, all before that afore mentioned West of England Championship in a fortnights time, which reverts to the bigger cars again for the first time since 2012.
It will be a busy programme of events with currently 17 races scheduled, so plenty of variety and value for money for a bit of Autumn oval racing.  It will all get underway at 1.00pm.