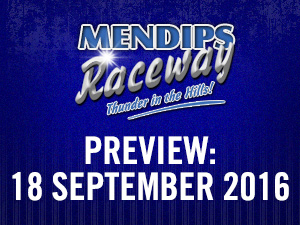 September the 18th sees us meet for the penultimate time here at Mendips and we have a 4 formula spectacular of close quarters and full bloodied racing. The F2's are on Championship form with the F2 Challenge Trophy, a second time out for the Back 2 Basics Bangers, and Hot Rods and guests Stock Rods complete a busy day.
BriSCA F2 – The F2 Challenge Trophy & White and Yellow Final
For the final time the F2's are back and it proves to be a busy old day.
It's been a hectic period for the F2's, their World Championship was held last week, and despite it not being a good one for the Westcountry regulars, it was Dutchman Wim Peeters (H124) who came out with top honours at Mildenhall, and with it the gold roof for the next 12 months
The F2 Challenge Trophy is the top prize on offer today. More recently, it has been raced for on the Irish Weekend at either Ballymena or Nutts Corner, although it has a history which spans back to 1971. This will be the first time that we will have held it since 1974 – when Tom Pitcher took the win.
Graham Fegan (NI998) is the defending title holder, and whilst it is unlikely that we will see the Ulsterman over, he is making every effort to try and defend his title.  But that's not the only prize on show as the lower graders have their Whites and Yellows Championship. This used to be known as the Rookies Reward and is now a prize ridden one off race with additional sponsorship coming from Merv Maggs, all manner of tyres and pound notes as an additional incentive for those white and yellow tops!
In the track championship, Chris MIkulla (522) has a 26 point lead from the last two final winners, Dave Polley (38) and Nathan Maidment (935). With only 50 points up for grabs, it proves to be an exciting day of maths and permutations for the F2 brigade, and with Polley racing in Holland, it stands to be a shoot out between Maidment and Mikulla
Next year promises to be a classic year for the Formula 2's as we host the British Championship over the mid-summer speedweekend, and plenty of talk of newcomers to bolster the numbers.
STOCK RODS
Our Guest Formula today are the Stock Rods- 1400cc non contact, primarily Corsa and Nova based which are then prepared to a proper race appearance, and are powered by their original up to 1400cc, with some modification permitted
With a good field of drivers from Ringwood and Autospeedland, it should prove to be a good meeting on what is becoming one of the most rapidly growing non contact formula with tracks up and down the land.
Ones to watch will be Justin Washer (909) and Callum Hosie (944) – all close quarters action, with sponsorship coming from Neil Truran Motorsport.
HOT RODS
The Hot rods end the season with it all to play for. After James Griggs (258) stole the West of England from Colin White's (718) ailing car, he took a commanding step to defending his Track Championship title, with only Mark Shelper (788), and the aforementioned White able to mount a challenge. The swpics.co.uk Trophy is the top prize on offer and what promises to be a meeting of high drama
BANGERS Back to Basics
The Back to Basics Bangers are back after their first foray back in June for the "Ayles Farewell" was deemed a roaring success. B2B is just that, strip the car out, stick a cage in and race it. No fancy stuff just a good old fashioned crash up. Liam Cracknell (241) was victorious last time out.
Bookings include Caravan destroyer in chief from last time– Dean Quinn (27) and race winners last time out for the Basics, Rob Mills (404) and Jason Hughes (258).
It should be a fun day of almost disposable banger racing – a true return of the purest form of Banger racing
Then we hope you'll be here for our last (boo hoo) meeting of the season on October 2nd, with the West of England Championships for the Unlimited Bangers (Old Skool), Special and Junior Rods.
The meeting starts at 1pm – see you then!