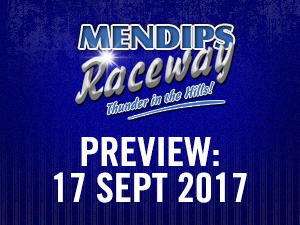 Just two meetings left in the 2017 season, and as Autumn starts to show, we have a cracker of a meeting On September 17th with both the Juniors and the Special Rods having their West of England Championships, and the culmination of the National Points series. Also finishing their season are the Hot Rods, with both James Griggs(258) and Mark Shelper(88) able to take the trophy.
The last meeting for the juniors was a fractious affair with a lot over aggressive driving and accidents, which we hope to avoid today, as the Points Championship id very close at the top. The first four drivers on the list have a mathematical chance to win, and it could be as close at 2016 when Becky(66) Pearce won by a single point! Jacob Anderson (285) heads the table going in to the final meeting, and the race format is a little different to the usual as the West of England Championship Final will be run with highest points scorers for the front of the grid rather that the normal graded order.  Currently third in the National Points is Ewan Gumbleton(190) who was the surprise winner of the West of England last time, and even a rollover at the last meeting has failed to dampen his spirits, so the field is wide open.
The Special Rods also put on an excellent show last meeting, with lower grade drivers scooping the lions share of the points.  Their West of England Championship also runs to the same format as the Juniors, with highest points scorers in the heats taking pole position in the Final. Andy Hawkins(81)  and Scania Dave (831) both scored very well, and Dave races the car that has already won two West of England Championships in the hands of now retired Andy Pincott.  Renewed interest in the formula is very welcome.
There was no stopping Colin White (718) on August Bank holiday weekend, when he won the West of England Championship in great style. Jame Griggs(258) still heads the points table, but his lead is not unassailable. It was Jamie Bryant(811) who made the best progress, but Mark Shelper(88) still has the ambition to win the points in this final meeting.
Back to Basics Bangers is the success story of 2017, with great turnouts of cars and plenty of action, as every meeting ends up as a Destruction Derby! The cars used are absolutely standard and basic preparation is the name of the game, with drivers reporting that they can prepare a car in a morning, race it, and bin it on the day after the meeting. Any car under 1800cc is permitted, and no mechanical modifications are allowed, so the racing in the heats is nudge and spin so the radiator doesn't get broken, but after the final, fields of 30 cars plus are not unknown for the Destruction Derby!
Come and enjoy the fun on Sunday September 17th - racing starts at 1pm
{source}
<div class="videoWrapper">
<iframe src="https://www.facebook.com/plugins/video.php?href=https%3A%2F%2Fwww.facebook.com%2Fmendipsraceway%2Fvideos%2F1681473831872531%2F&show_text=0&width=560" width="560" height="315" style="border:none;overflow:hidden" scrolling="no" frameborder="0" allowTransparency="true" allowFullScreen="true"></iframe>
</div>
{/source}