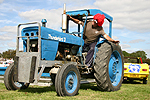 The next event at Mendips Raceway is the Practice Day on Saturday March 2nd. This takes place between 10am and 4pm, and any driver is welcome to bring his car for a pre season shakedown.
Admission to the public is free of charge, and the cost per driver is £20.
At this event, drivers may take their 2013 Licences out, collect Fixture Lists, book in for our early season meeting, collect Posters for their workplace, and entry forms for Filo's CRASHMANIA, which is an Entry Form Meeting and expected to be over subscribed.  
New Junior Rod drivers are encouraged to take their Assessment on Practice Day, as there is more time available than at a race meeting, and it does not matter if the car is not 100% completed, as long as all the safety equipment is in place.
There is no need to book in for Practice Day, but the earlier that you arrive, the more track time you can expect.