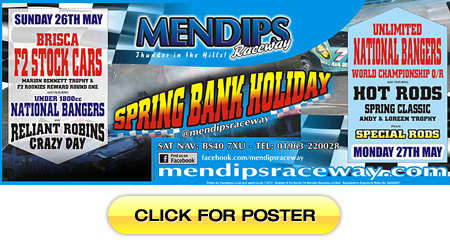 Another Bank Holiday weekend means that Mendips Raceway will be open for business!
This time we will be presenting all the favourites, but especially focussing on the Rocking Robins, who have their annual Crazy Day. When we come up with some different events for them-all of which will be revealed on the day.
The Big Bad Bangers are back-1800cc cars on Sunday, and the Unlimiteds on Monday racing for World Qualifying Points.
The fantastic F2 stock cars and the ultra quick Hot Rods will be there as well-don't miss it!