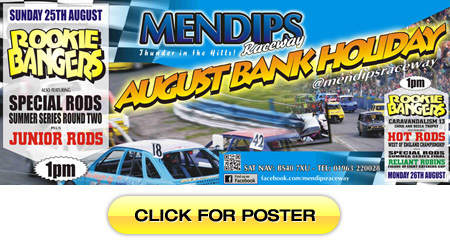 A great way to end the summer holidays at Mendips Raceway on the August Bank Holiday weekend – Sunday 25th and Monday 26th is in prospect.
Bangers are racing both days, as are the Special Rods, plus Juniors on Sunday and Hot Rods and Roly Poly Robins on Monday, with their infamous Figure of Eight race!
To round off the weekend there is the annual caravan destruction derby, and if you have never seen it, you really shouldn't miss it!
Charlie the Clown will be around as well, with sweets for the kids, so join us for a great day out!