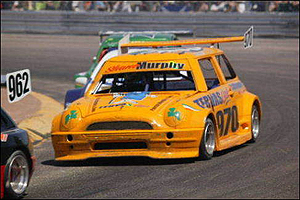 We can now confirm that the NHRPA have granted a fixture to Mendips Raceway in 2013. The cars will take part in the 5th Qualifying Round for the 2014 World Championship on Sunday September 22nd 2013.
This is the first time that National Hot Rods have ever appeared at the circuit, and will be a fascinating day for all non contact racing fans.
There are several National Hot Rod drivers resident in the west country, such as Ralph Sanders, Mike Loosemore and Shane Brereton, who have all raced at the track at one time or another, and will be more up to speed with it's unusual nature. At least twenty cars are expected, and full details will follow in due course.