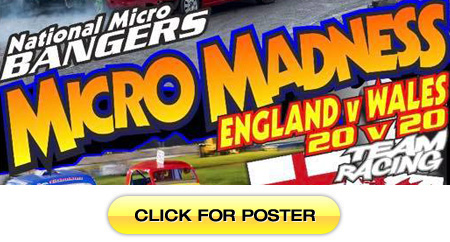 Featuring: Micro Massacre, England vs Wales National Micro Bangers, Junior Rods and Heritage F2 Stock Cars
MEETING PREVIEW!
Welcome to Season 2019 here at Mendips…. and if 2018 was anything to go by, 2019 is going to be a cracker!!! We celebrate 50 years of the raceway and we start with a healthy mix of little car destruction, rivalry and skilful close quarters action. MICRO MADNESS Our yearly mega trash and crash of the dinky little motors gets underway. Kas and Micras are the oft weapons of choice as the small cars get their day in the sun, before the crusher gets them! Last year, it was Johnnie James (362) who took top honours in the big race, following heat wins for Caneron McColm (1340 (who will be racing F2 this year and Boogie (252) This is a popular form of National Bangers with many events for the tiny tearaways up and down the country. You will look at your Granny's Micra in never the same way again!!
ENGLAND VERSUS WALES Whilst the Welsh may have had the better on the Rugby field and have the better songs, last year's battle of the Severn saw England take a commanding victory over the two legs, with a total annihilation of the Welsh here at Mendips, followed a couple months later with another commanding win on the away leg. Tom Jones, Richard Burton, Nye Bevan, Dylan Thomas, Charlotte Church, your boys (and girls) took one hell of beating!!! Our visitors from the St Brides' track near Newport join us again. Team Captains have been designated. Teams have assembled two mighty scores of cars. England will have the white bangers, Wales, in red, what else. Then after all the jingoistic fever has dissipated, the remaining Micros can race on and join the main event too!
JUNIOR RODS A new class of youngsters come to the Mendips Junior School of Rodding. Last year's track champion Ewan Gumbleton (ex 190) has come of age and now will progress to a senior formula. Leah Bennett likewise, so the remaining class of 18, will be looking to see who is Head Boy or Girl for this season. With Gumbleton being truly dominant last season, it will be up to the likes of Tom Weeks (100) and Josh Weare (36) to step up – however Weare is very much turned educator working with brother Cameron McColm on his F2 adventure. Maybe the likes of George Jenkins (8) Ieuan Preston (149) and Charley Johns (35) will get the job done? Or maybe the girls, now red graded Jasz McArdle (29) and Maddie Giambaresi (176) can show the lads how its done? Or perhaps, the Gumbleton dominance continues in its next incarnation – Ewan's brother Thomas is one of many newcomers this year.
HERITAGE F2 A taste of what it was like 50 years ago as the cars of yesteryear take to the track in a true showing of what it was like "in my day". Last time, it was as support on World Final Night, and the Gold Cup saw a feisty field of 36 cars take to the track in the slippy conditions under the lights. It was Nick Whitney (773) who emerged victorious from the pack in the big race, and Whitney heads the entry. Plastic pasty – Essex boy turned Cornishman Alan Humphrey (253), fresh from familiarising himself with ladies in lycra jumpsuits at the Motorsport with Attitude Show at Peterborough last month, is out to have a go. Our illustrious promoter and race manager Graham (728) and Jack (128) Bunter are probably going to see if they can sneak a win or two – no special favours from the Steward will be given!
Stay in touch with our social media outlets – Facebook, Twitter, Instagram, and now Snapchat! Over the winter our website has had a refresh too – have a look at mendipsraceway.com for all the latest news, pictures and reports… Next time – it promises to be a meeting not to be missed as the Golden Anniversary meeting plays host with more than a whiff of nostalgia in the air, with the BriSCA F2 in World Qualifying Mode, along with Bangers and a first Special Rod Weekender. Bank Holiday Monday sees Vans and Juniors in action… Cheers n gone Jonny
Micro Bangers
2 Jack Hodges
5 Spike
17 Charlie Edgecombe
27 Dean Quinn
67 Rickie Beasley
79 Steven Mountjoy
83 Shane Baggs
81 Rick Bugler
91 Sam Bartlett
92 Liam Bartlett
100 Taffy Wicks
111 Tomo Ruby
114 Shaun Turnage
145 Liz Dicken
160 Jamie Warr
191 Tyler Jacob
262 Roona
270 Slug
276 Paul Lacey
284 Leon Benjafield
308 Charlie Ayles
313 Bevan Bailey
333 Charlie Randell
362 Reece Gilmour
383 Rory Adams
421 Josh Mayo
438 Reece Yemm
440 Macauley Mills
452 Will Teakel
488 Luke Whatley
517 Scott Weldon
616 Dan Moore
633 Nathan Ferrett
658 Adam Dorse
668 Paul Mortimer
711 Johnny Major
714 No Show
725 Liam Hobbs
728 Stuart Hooper
775 Brad Hunt
784 Henry Murray
799 Tom Pearce
801 Rhys Stroud
868 Stuart Parish
894 Chris Stokes
911 Rhys Burgess-Seabourne
956 Harry Thompson
999 James Puckett
Team England:
59 Mike Jones (Captain)
3 Mark Morris
27 Dean Quinn
44 Eddie Redland
71 Josh Jones
74 Ash Charles
76 Mat Hodgkins
160 Jamie Warr
419 Reece Bruges
441 Tom Major
622 Leon Loopy Weeks
737 Ian Crandon
747 Brad Crandon
777 Ricky Dalton
720 Kenny Jo Gabriel
721 Carley Gabriel
808 Simon Hartland
888 Andrew Bird
908 David Brown
999 Dan Cliffe
Team Wales
27 Josh Clark (Captain)
2 Aaron Morgan
5 Stacey Murphy
20 Luke Pugh
34 Jarrod Evans
94 Sam Starkey
101 Jordan Coombes
116 Joey Sutton
122 Christopher O'Donnell
127 Robert Clark
143 Debbie Fry
199 Kris Clifford
252 Michael Hudd
262 Denis Boxall
267 Jerome Bennett
503 Seymour Tucker
746 Deejay Tyler
761 Nathan Rees
834 Evan Cotterrall
921 Kairan Wilson
Heritage F2 (22)
49 Paul Ferguson.
59 Nigel Finnegan
128 Jack Bunter.
135 Jim Cannon.
138 John O'Sullivan.
153 Matt Humphrey.
198 Alan Nicholson
251 James Humphrey
253 Alan Humphrey.
314 Paul Bromham.
342 Ross Taylor.
347 Ian Johnmson
401 Ashleigh Wareham
533 Andy Kaye.
536 John Ferguson
580 John Perrett.
601 Ashleigh Wareham
629 Vince Manterfield
728 Graham Bunter.
763 Andy Bateman.
773 Golden boots.
886 Brian Owen.
Junior Rods (20)
8 George Jenkins
11 Jake Devine
26 Harry Melville
28 Ava Hawkins
29 Jasz McArdle
30 Finlay Holloway
35 Charley Johns
36 Josh Weare
41 Daniel Young
75 Jack Buckingham
92 Abi Southgate
100 Thomas Weeks
149 Ieuan Preston
176 Maddy Giambaressi
190 Thomas Gumbleton
214 Jude Manley
236 Alfie Brimble
258 Riley Brimble
610 Alfie Murray
856 Jamie Cocks