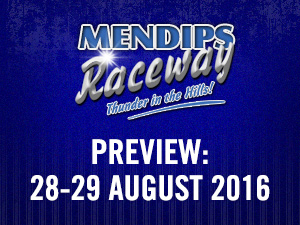 All eyes on the prize for another big Bank Holiday Weekend of racing here at Mendips, and for many formulae it is the business end of the season with many taking their penultimate meetings, so track championships well and truly up for grabs.
Action comes from the BriSCA F2 Stock Cars, the under 1400cc Bangers, close quarters action from the Junior Rods and Special Rods, the Hot Rods have their West of England Championship – and the fun comes in the form of a Ladies Banger Race, Robins and the ultimate scene of worthwhile holiday home destruction – Caravandalism XVI
F2 STOCK CARS
After the excesses of the Pink Ribbon Meet, there are strong hopes for a reasonable turnout of F2. Sadly, following the World Semis at King's Lynn, no-one from the West Country has qualified for the big one for the first time ever.
Final winner last time, Nathan Maidment (935) is set to be with us after racing at Cowdenbeath the night before. With yellow top winners in every race last time, it might well be a lower grader that takes top honours again.
Current Track Championship leader Chris Mikulla (522) aims to defend his Marion Bennett Trophy in what should be an interesting meeting for the Worle based driver. Recent final winner at Taunton, Steve Gilbert (542) is still waiting for a final win here at Mendips, could this be the time he finally breaks his duck.
UNDER 1400cc BANGERS
Small, but perfectly formed is the phrase that pays for the Bangers on this occasion, as the small engine take to the track. Last year, it was Roona (262) and Pete Stanley (40) who took the wins. This year sees regular Unlimited Bangers supporters Sam Trim (363), Macauley Mills (440) and Scott Weldon (517) leading the entries, in what promises to be a heavy hitting day of action!
LADIES BANGERS
The girls get a chance to have a serious race meeting in aid of the FORDS benevolent fund for injured drivers, staff and photographers. With a variety of experience from regular racers to complete novices, it will be an interesting opportunity, in the words of Cyndi Lauper, for the girls to have fun.
Former Ministox driver Sophie Fasey (186) leads an impressive line up, which includes Robin racer Stacey Howe (119) who can take to the track without any of those nasty boys to play with!
For many others, including daughters and significant others, it will be a nervy if not fun race for them, but all racing for the excellent cause of FORDS.
JUNIOR RODS
The stars of the future get another run out. Last time out, it was Cornish traveller Jack Sear (854) who took top honours in the final following a quite teasy and challenging day for the youngsters on day 2 of the summer Speedweekend, with plenty of dockings for contact. The track championship is livening up with only 20 points separating the top 7. Josh Weare (36) leads the way, will he get enough points to secure the title with a meeting to spare.
CARAVANDALISM XVI
The 16th running of Caravandalism sees a bit of recompense for all those who got stuck behind on the summer roads. Jack-knifing is encouraged and tailbacks are likely to happen as someone's once vehicle of loved holiday memories gets rightly and justly smashed up for your entertainment. At time of print we have 16 caravans racing. Last year it was Dean Quinn (27) who took home the Chris and Becca Trophy – who will be the last van standing?
HOT RODS – WEST OF ENGLAND CHAMPIONSHIP
The big one for the Hot Rods. Last year's winner Mike Hibberd (125) has yet to be seen this season, so a new name should be on the trophy come the end shake up. James Griggs (258) should have his sparing partner Colin White (718) to tussle with. Last time out, Griggs took heat and final, with Rick Lee (578) taking the other race. Should be a reasonable grid of Hot Rods for their penultimate meeting of the year.
SPECIAL RODS – SUMMER SERIES FINAL
It was the Pink Day that we saw the Specials last, and with white tops speeding away again, as Sam Bartlett (91) took top honours in a frantic if not damaging day. Dan Latimer (720), Dene Howard (41) and Jason Horseman (136) took the other wins. Veteran Les Brice (700) put together a string of good results last time out, with his advantageous lower grade start he will be one to watch!
ROBINS
Like the old disco classic goes "we're gonna use it up, and wear it out" today for Robins as their season rolls to a climax. Tim Weare (304) is 22 points clear on top of the points, with last time's heat winners Dan Tytheridge (3) and Darren Russell (26) leading the charge behind. However, all eyes will be on the season finale – the figure of 8. Fun to the power of 3!
BANGERS (ROOKIES)
A track championship is also up for grabs. Cookie (70) leads the way from the Rices Ashley (938) and Dan (138). With both Ashley Rice (938) and Cookie both set to miss the meeting, the title could go any way, with many more drivers in the mix for the silver roof.
Both meetings start at 1pm. See you there!