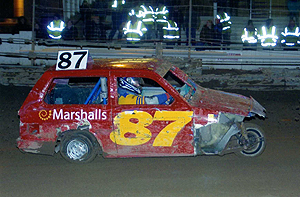 A great weekend for Mendips Raceway drivers at Mildenhall Stadium in Suffolk on Saturday. Barry Richards(87) and Jon Coombes (46) took their Reliants to race at the World Championship Qualifying Round.
In a rough and tumble session, where both drivers rolled, it was Barry who came out on top with a Final win, and a guaranteed place in the World Final.
At the same meeting, Marcus Goldsmith (198) and Sam Trim (363) took part in the pre-1970 Bangers, with a rare BMW Coupe for Marcus and a Triumph 2000 for Sam.
Both managed Heat wins, and in a field of some 100 cars, that was a great feat, and when the Final was stopped with a couple of laps left, they were running first and second, but unfortunately Sam's Triumph failed to finish, but Marcus took the win.
The meeting concluded with a 69 car Destruction Derby!