Mendips Raceway - RESULTS - 03.05.09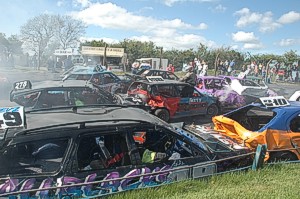 A fine and dry day brought plenty of drivers to race, and in the MiniRods, it was a first time win for Jesse Milverton (4), followed by a big crash in the final which led to a full rescue by the St John Ambulance and the Mendips Raceway Rescue crew.
After a hospital check up, Jesse was pronounced sore but well, after her ordeal, and is looking for another car! Colin White almost made
another clean sweep in the Hot Rods, for the anuual Sealrite Trophy, but was held off by Ross Loram(26) in heat two. Another better field of Hot Rods, with plenty of visiting interest.
The Banger World Qualifier was much enhanced by a number of visiting Midnight Runners from Essex, plus the south west domiciled members Nemesis and Pikey, and they pretty much dominated the results, although Bad Boy Brett Ellacott won the Final and Allcomers, while Pikey, Jamie Charles, and Jimmy Randall provided a hard hitting dispplay in the DD.
Mini Rods :-
Heat 1 - Jack Stuckey 23,11,79,501,32,15,60,43
Heat 2 - Daniel Steeds 796,7,56,21,91,111,121,404
Cons - Jesse Milverton 4,22,18,9
Final - Mason Thomas 79,796,7,11,60,43,404,32,18,22
Hot Rods :-
Heat 1 - Colin White 718,24,88,205,904,26,117,775,35,34
Heat 2 - Ross Loram 26,904,718,205,775,88,117,24,34,55
Final - Colin White 718,904,117,26,88,34,775,22,35,55
Special Rods:-
Heat 1 - Robin Bath 25,47,17,198,83,136,144,45
Heat 2 - Nigel Gissing 407,173,10,48,60,39,19,993
Cons - John Major 42,122,23,41
Final - Robin Bath 25,41,42,173,45,47,83,10,48,198
Bangers:-
Heat 1 - Paul Whiteman 10,239,58,210,27,208,374
Heat 2 - Steve Carter 239 ,208,27,58,18,44,10,363,40
Final - Brett Ellacott 162,198,239,208,190,44,7,374
A/C - Brett Ellacott 162,208,58,44
DD - Jimmy Randall 208
Meeting Report, May 4th
The second meeting of the Bank Holiday weekend featured a break in tradition, as the THUNDERBOLT meeting which had been staged on the Sunday since 2001 moved to the Monday for the first time, to try and avoid a clashing of big National Banger meetings. It certainly didnt appear to have any sort of negative effect on the entry with a total of 49 Unlimited Bangers arriving, with a strong representation from across the south west region and travellers from further afield such as our own regular traveller 51 Jon Worstencroft from Derbyshire and also 141 Dan Steele from the north-west of England.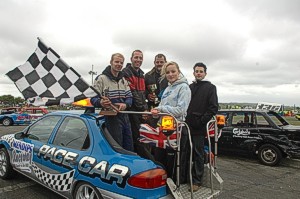 As ever, there were some impressive big cars too including a couple of Limo's left over from Easter Mondays Matches and Dispatches meeting and a used Rolls Royce from 517 Scott Weldon whilst car of the day came in the form of a second fresh Daimler Limo in three weeks from 58 Martin Dalton amid a lot of big Jags, Granada's and Japanese material.
The two heats ended up being somewhat uneven on numbers, and as a consequence the first of them was pretty quiet and won by 396 Scott Mowlem whilst the second had more cars in and suffice to say saw much more in the way of action and 199 Jamie Wyatt lead home his brother 133 Ben to victory.
A very destructive consolation only saw four drivers last the course and the winner, 298 Sam Wyatt was well over a lap clear of the runner up.
The Axminster Power Tools sponsored THUNDERBOLT IX Final saw 32 cars make the track with the qualified drivers at the front and the non-qualifiers starting from the rear. It turned into, literally, a race of two halves as initially it was the two heat winners 199 Wyatt and 396 Mowlem who opened out a good lead, with last years winner 44 Steve Griffin holding down third until he retired.
Just at the halfway point Wyatt made his move on Mowlem, but just as he did, the pair arrived at a crash that had just happened and they had little choice but to plough in. The result was spectacular with Wyatt flying through the air before landing on his side across the track. With it being completely blocked, a red flag was needed and with the 199 the prime cause for the stoppage he was unable to take the re-start.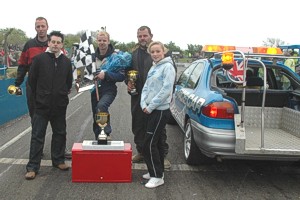 Mowlem's car had taken quite a pounding in the crash and although he led the field off for the re-start he was unable to keep 190 Steve Bailey off, but then 'Pikey' himself had no answer for 298 Wyatt who went on to uphold family honour following the demise of 199 and take a very well driven win.
With it came a rich prize fun in terms of cash and prizes from Axminster Power Tools. Bailey had to be content with second and 136 Paddy Connelly took a good result for himself with third. Only six cars made it to the end of the 20 laps.
The Allcomers turned out to be an early DD with some train jacking on the car park bend which wiped out most of the field. Mowlem more or less ended up as the last car circulating, and just as he was about to take the chequered flag which would have signalled the start of the (official!) DD, 91 Kelvin Cole charged off the centre and straight into Scott's drivers door. Whether by accident or design it was never the less a somewhat silly piece of driving, and with the DD then being declared void it wasn't a good way to end the meeting, which was a shame. Thankfully Mowlem was able to walk away from the crash, albeit feeling somewhat second hand.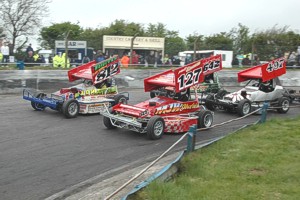 The BriSCA F2 Stock Cars turned up in better numbers than expected which is always a good thing and amongst their entry were several longer distance travellers.
The first round of the Rookies Reward kicked things off and with 26 cars on track the recipe was there for, well, carnage - but it didn't happen with a smooth race going all the way from green to chequered. 935 Nathan Maidment, fresh from winning the Final at St Day on Sunday took a comfortable win on what could well be his only appearance in the series for a while as a move back to blue grade is on the cards owing to that Final win.
The first heat proper saw 642 Dave Luscombe battle his way through to record his first victory of 2009 and then in heat two recently crowned British Champion 886 Chris Bradbury stormed through to take the win. Maidment took his second win of the afternoon in the consolation after 464 Matt Linfield slowed on the penultimate lap.
The 29 car Final saw an early yellow flag after several crashed on the back straight, most notably 677 Chris Roots and 700 Adam Rubery. Bradbury had already made light work of the star men by this stage and went on to hit the front soon after the re-start, a lead he was never to lose. Linfield came through for second and 374 Gary Stephens was third.
The Grand National rounded out the day for them and had two yellow flags, but there was no doubt about the winner as 189 Paul Butcher drove to a convincing win.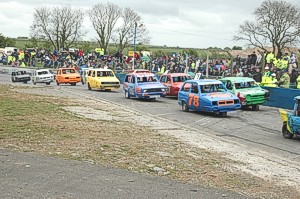 The Reliant Robins played their part in the day with fun and of course rollovers, 159 Katie Jones in heat one, 46 Jon Coombes in heat two and then a big one by heat one winner 59 Mike Jones in the Final.
With his Robin already looking more than second hand could this big crash be the end of it? 87 Barry Richards went on to win the other two races, holding off Jones in heat two and then keeping a safe distance between himelf and 59 Martin Dalton in the Final with 78 Mark Bowskill third.
F2 Stock Cars:-
Rookies Reward - Nathan Maidment 935,254,178,14,762,891,838,827,605,374
Heat 1 - Dave Luscombe 642,374,38,189,628,497,700,116,605,509
Heat 2 - Chris Bradbury 886,127,812,877,315,677,783,990,254,14
Cons - Nathan Maidment 935,105,685,464,827,126,34,838,544,178
Final - Chris Bradbury 886,464,374,642,38,105,189,877,254,497
G.N. - Paul Butcher 189,642,38,315,127,464,497,116,254,105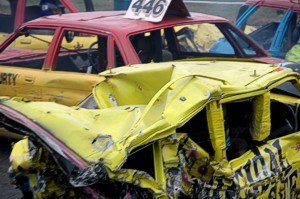 Bangers - Axminster Power Tools Thunderbolt IX:-
Heat 1 - Scott Mowlem 396,239,190,136,446,7,210,303,785
Heat 2 - Jamie Wyatt 199,133,198,282,341,141,179,51,406,58
Cons - Showman 298,262,363,714
Final - Showman 298,190,136,58,396,40
A/C - Scott Mowlem 396
Robins:-
Heat 1 - Mike Jones 59,87,78,3,909,58,46,348,39,250
Heat 2 - Barry Richards 87,78,909,3,58,348,658,159,39
Final - Barry Richards 87,58,78,909,46,658,250,348,159