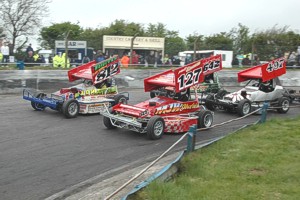 Sunday May 24th and Monday May 25th
Mendips Raceway will be back in action this coming weekend, another Bank Holiday means another double header with something for everyone over the two days and a total of 27 races ahead.
Naturally starting with Sunday, the BriSCA F2 Stock Cars continue on with their season, after a very good showing here on the last Bank Holiday Monday.
This time it's the annual Marion Bennett Trophy up for grabs, which was won last year by 886 Chris Bradbury and by co-incidence, or maybe not, it was he who took a heat and Final last time too and fresh from another down at Taunton last weekend he really is the form man coming into today.
However, it is never as easy as all that, as there are currently plenty of quick drivers in the blue and yellow grade for instance who could easily get away and not be caught.
We will have the second round of the Rookies Reward, open only to white and yellow graded drivers and the first round last time fielded an impressive 26 cars, proving just what a trump card it is. 935 Nathan Maidment took the honours in that, but is now back up to blue grade after his Final win at St Day the previous afternoon and thus not able to compete in the event this time.
Just like the previous Bank Holiday weekend the Bangers have under 1800cc and unlimited to race for, albeit the other way round with the smaller cars on Sunday and then the bigger ones on Monday. The unders last time saw visiting drivers run away with things, with "Midnight Runners" 10 Paul Whiteman and 239 Steve Carter sharing victories and 162 Brett Ellacott taking the other two, including the Final on what was his first visit for a while. Whether we see him, or the others, remains to be seen but surely some more of our local and regular drivers will be looking to get in there amongst them this time, such as reigning points champion 58 Martin Dalton who is never far away. The bigger cars throw up a different perspective. It cant be compared to 'Thunderbolt' last time, which is one of our biggest meetings of the year so by in large (no pun intended) it will be the afore mentioned regulars holding sway on Monday, looking to add to track championship points as well as the all important World Championship points.
In a little bit of a change to the norm, the Reliant Robins will be with us on Sunday. Whilst it is indeed a lot of fun, it is a race for all that and there is a nice shield for the points winner at the end of the season. 46 John Coombes won that last year, but managed to invert twice last time on Bank Holiday Monday leaving 87 Barry Richards came out on top, and such is his mastery of this that he will be the one to watch again this time. Whether 59 Mike Jones, who won the other race, can piece his back together after his big roll in the Final last time remains to be seen.
Monday will see a return to the all Sierra Special Rods who really have been on starring form again this year with some very close racing, and a variety of winners which is exactly what we want to see – and all drivers racing on an affordable budget too, and the control tyre this year working wonders to add to that and make it even for all the drivers. It was the experience of 25 Robin Bath that shone through last time though with a heat and Final double, the first driver to do this in the Sierras this year but as ever it was hard work, and without doubt it will be tight at the top of the points all the way to the seasons end in October.

The youngsters in the Mini Rods put on a great display on last time where 79 Mason Thomas had his best day to date by coming through to win the Final whilst 4 Jesse Milverton experienced the highs and lows of motor sport by winning her first ever race in the consolation only then to crash hard in the Final. This resulted in a trip to hospital, but thankfully she was given a clean bill of health and is looking forward to being out on the track where she will be joining the rest of the eager young ones as they learn the ropes of the game.
Finally, last but definitely not least – especially in speed, we will see the Hot Rods back on track on Monday for the annual Andy and Loreen Trophy and the big question is, can anyone beat 718 Colin White? The former World Champion was on hot form here last meeting but unlike Easter Sunday he did not take a hat-trick and there was a greatly improved entry and with that promised to continue this time – maybe even more they say – it will thus be even harder for Colin to come through, adding to the fascination of it all whilst defending points champion 26 Ross Loram was looking to be getting the hang of his new car last time too.

Steve Linfield