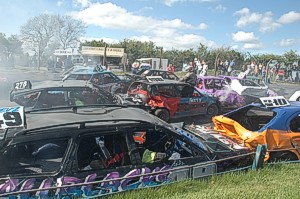 Mendips Raceway 27th and 28th June 2009 preview by Steve Linfield
Mendips Raceway will be back in action over the weekend of June 27th and 28th, the only time this season we have Saturday evening and Sunday afternoon racing together, and has become a highlight of any given season here at the track.
The National Bangers will be with us on both days, and significant events both too with the annual under 2 litre all-Ford rear wheel drive "British Beef" session on Saturday and then the first running of the Parker Hannifin £1000 Summer Open Championship being one of the highlights on Sunday afternoon.
The weekend has attracted a great entry once again,
with entries still coming in at the time of writing, we could well be looking to beat last years 50+ Saturday evening total, and with many drivers aiming to bring just the one car for both meetings it remains to be seen how this will pan out, as the chance to trash a Cortina or Capri might prove too much?
We already know that there are at least two Mk3 Cortina cars expected, including one Estate version which is now a seriously rare car. The format remains under 2 litre for Sunday afternoon, but naturally open to all makes. There once was a time when the Ford really was the staple diet of Banger racing in this country, with many tracks even running successful non-Ford meetings to encourage the build and use of other cars. However, as times moved on so the Ford waned, although that said over the past couple of years especially they have started to come back with the use of the (very strong!) Mondeo.
Driver wise, there is a very healthy contingent heading up from the south coast who more usually race at the Ringwood Raceway with some very useful drivers amongst them, and also several drivers heading down from the north Midlands, to join our very own 51 John Worstencroft on the trip down the M6 and M5, which he does for each and every meeting here, as well as 474 Matt Threlkeld all the way from the north-west.
Last year the British Beef Final went to 58 Martin Dalton, who as ever will be in action on both days, but with the like of 'Midnight Runners' 190 Steve Bailey and 208 Jimmy Randall starting to race here regular this season, the competition is as stiff as ever and of course on May 24 veteran 198 Marcus Goldsmith took a hat-trick of wins, so it is as open as ever, and all the points count towards the track championship too.
Whatever, it is going to be a great weekend of Banger racing, which many from across the land will have travelled too and we trust you will enjoy what you see. Many thanks go to the sponsors of the Bangers on Sunday, back for the second year running, Parker Hannifin Hydraulics of Crewkerne.
Saturday evening will also see the annual outing here for the Heritage FII Stock Cars, with a good entry of the cars expected, there should be more fun in the clock winding fashion with the largely replica cars dating back to the very early years of the formula 1960 to 1972.
Whilst I say "fun", the drivers – several of them are those who raced in the period/s in question and despite being a lot older now (!) they take it pretty seriously and it is competitive racing. Talking of fun, with a serious(ish) twist, the Reliant Robins will conclude Saturday's programme and by coincidence they too will be part of the big World Final day on September 14th.
The three wheelers have been in fine form this season, none more so than 59 Mike Jones who has somehow kept what remains of his three wheeler going to win many races and those that he hasn't have seen 87 Barry Richards take victory and these could well be the duo to watch again this time – unless 58 Martin Dalton can rediscover the form that was once so strong but has eluded him on three wheels so far this season.
The Hot Rods will complete the programme on Saturday, giving them a rare chance to race into the mid-summer dusk and they really have picked up this season with several new faces appearing, old ones returning and that has all added up to increased grids and some great racing. However, last time it was all about 904 Wilson Hamilton as he took a hat-trick of wins and if he races again this time he could well be the one to catch but, 718 Colin White will be looking to be present this time and giving him a run for his points, whilst the 'older' cars of 18 Larry Langmead and 205 Mike Norton showed they have plenty left in them last time.
Sunday will see the return of the BriSCA F2 Stock Cars for what is nationally a solus date which is a rare thing in the summer time, so really just the luck of things for us today. This should enhance the entry a little with in-particular 38 Dave Polley, who has now taken the lead in the National Points Championship and is aiming to race in a record 100 race meetings this year – and to example on how much commitment that entails, he will have been racing at Cowdenbeath in Scotland on Saturday evening.
The one they will all be looking to catch is the other currently in the running for the National Points and that is reigning track champion 886 Chris Bradbury, who has won the last two Finals here. However, it as never as easy as all that as there are always plenty of quick yellow and blue graded drivers that are very capable of getting away. We will also see the third round of the Rookies Reward, open only to white and yellow grade drivers and with both the first two rounds going to drivers who are now up to blue, 530 Matt Deeble and 935 Nathan Maidment, we will be looking at a new winner this time, with the points all counting towards September's Final.
To round out the show on Sunday, the youngsters in the Mini Rods will be back and the racing has been very close so far this year with no one driver dominating, as the four different winners showed but it was the top drivers who came to the fore in the Final with 7 Aaron Charles leading home 23 Jack Stuckey and 60 Steve Sayer.