Sunday May 29th and Monday May 30th 2011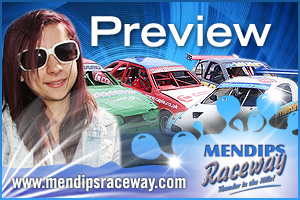 Mendips Raceway will be back in action this upcoming Bank Holiday weekend with another two days of oval racing in its varied forms, with something for everyone over the two sessions on Sunday and Monday afternoon.
Naturally starting with Sunday, the BriSCA F2 Stock Cars return and after both Finals so far in 2011 here have been won by 676 Neil Hooper, with triple track champion 886 Chris Bradbury absent last time, but due back this time it will be his chance to play catch up.  One who could prove to be a dark horse in the track championship though is 921 Jack Aldridge, as the young teen superstar has shown great consistency and now overawed by starting right at the back of the grid.
From there we move to the front as we will have the first round of the Rookies Reward for the white and yellow grade drivers.  It was with regret that this was cancelled last time, but it will definitely go ahead this time and will have double the prize money on it so it will definitely be worth it for the lesser names.  Just like the previous Bank Holiday weekend the National Bangers have under 1800cc and unlimited to race for.  The unders last time saw 15 Ben Tovey take what was a pretty rare win in the Final whilst 252 Steve 'Boogie' Buglar showed up well all meeting long and is set for another trip from the south coast.
The bigger cars throw up a different avenue.  It cannot be compared to 'Thunderbolt' last time, which is one of our biggest meetings of the year so by in large (no pun intended) it will be our locals and regulars holding sway on Monday, and there are a pleasing number of them booked in all looking to add to track championship points as well as the all-important World Championship points.  58 Martin Dalton showed that his short-lived retirement rejuvenated him nicely as he took the big honours at 'Thunderbolt' last time whilst the overall points coming into this weekend is headed by the most local driver to the track, 363 Sam Trim, who will, as ever play a prominent role at both meetings.
The Reliant Robins will be with us on Sunday, for the second running of 'Crazy Day' to add some extra fun into the three wheelers, which are and were never intended to be a serious racing form in any case.  Things will get going with an 'ordinary' race and then there will be a ramp race and then pairs race, which will be a first.  Suffice to say, these races will obviously throw the form book out of the window somewhat. 87 Barry Richards went undefeated last time out but is not due to be present this time as he is preparing to race in the Isle of Man this coming week.  3 Dan Tythridge had a good day at this corresponding fixture last year whilst 499 Lee Charles has looked good in the two meetings so far in 2011.
Monday will see a return to the all Sierra Special Rods who really have been on good form again this year with some very close racing, and some first time winners which is exactly what we want to see – and all drivers racing on an affordable budget too, which is the essence of the class.  122 Joe Rowe held on for a very good Final win last time out, fending off several different drivers over the 20 laps and just keeping reigning points champion 18 Russ Colenut at bay to the flag.  Despite suffering mechanical issues, 23 Ross Stuckey leads the points coming into this weekend and will be looking to build on that, but as ever the going will be tough. The youngsters in the Junior Rods have put on their own brand of racing here this year, with the drivers learning and honing their racing skills.
The Mini remains the mainstay but there are several new marques coming in this year with the rules opened out to allow other 1000cc cars.  Last Bank Holiday Monday it was all really about 127 Louis Aldom and 510 Sid Harrison as they lead the way pretty much all day, and now with their great start to the season they have made the big leap to the red grade, and therefore will be starting from the rear.  The first re-grade of the season has given a real mix up in general and it will be interesting to see what that does to the outcome of the racing this time.  397 Caine Down had a good day, despite being involved in a crash that saw him roll, and he too could be one to watch.
Finally, last but definitely not least – especially in speed, we will see the Hot Rods back on track on Monday for the annual Andy and Loreen Trophy.  262 Brian Loram was the winner last year, but he has not raced yet in 2011.  718 Colin White dominated the first two meetings of the season but last time out it was 904 Wilson Hamilton who took the Final honours, whilst 282 Steve Hunt was also a winner and his consistency has seen him come into the meeting as the top of the points.  18 Larry Langmead showed up very well last time too, and will be looking to go one better.
Both meetings will kick off at 1.30pm with a grand parade of cars – see you there!