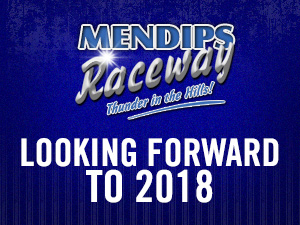 The 2017 season is now history, and planning has begun for 2018-the year in which we will be staging the Brisca F2 Stock Car World Championship!
In the meantime, there are other events for the winter. The annual Drivers Meeting will take place at the Village Hall at Farrington Gurney on Sunday November 19th, commencing at 12 noon. All prospective and existing drivers are welcome to attend. The Track Shop will be open, and Drivers Licence applications for 2018 will be available to obtain your racing licence at a reduced rate. We hope to have the full 2018 Fixture List available so that holidays can be planned.
The 2018 Presentation Night takes place at the Webbington Hotel on Saturday February 3rd 2018, and tickets can be obtained from the office-price £32 each, and accommodation can be booked now by calling the Hotel on 01934 750100, and mentioning the Raceway. Full three course dinner and live band, and the presentation of the Driver of the Year Award will take place.
For more details call the office on 01963 220028 or contact us through the website or facebook page.