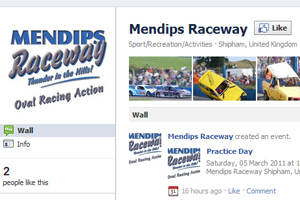 The Mendips Raceway community now has an official facebook Page.
Its been set up by Andy at APWD and all we have to do to get involved is to click here or the image on this article and 'Like' the Mendips Raceway page that opens up on the facebook website.
Sarah White, our Facebook Manager may well come after us with a 'Friend Request'.   She is okay!
There's lots of exciting features planned for the future that will keep us all in touch and add a bit of fun to the proceedings.
All the names of people that 'Like' the Mendips Raceway page between now and Whitsun will go into a hat, with the chance to win some prizes!  Now that's an incentive!
If you have any questions or comments, please get in touch.