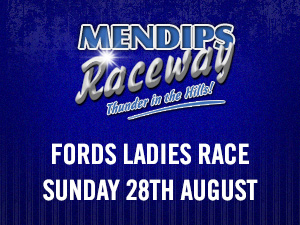 Mendips Raceway will be featuring a Ladies Banger race on Sunday August 28th as a fundraiser for the FORDS Charity which helps injured drivers and staff in Oval Racing.
This race is open to all ladies whether novices or experienced drivers and they can either borrow a car or bring their own, as long as it is built to National Banger rules and less than 1400 cc. The race will be the first on the programme to make sure cars are fresh.
The grid will be made up with the girl who has raised the most sponsorship on pole position, and will be nudge and spin only. Drivers MUST use the official sponsorship form supplied by FORDS as per the rules of the Charity Commission. The form explains how it works and can be obtained directly for the FORDS CARE website.
FORDS co-ordinator Manuela will take the bookings, so please contact her in the first instance.
Lots of interest already, so let's break the record for fundraising!