Sunday April 12th and Monday April 13th
Mendips Raceway will be back in action for the first of our Bank Holiday doubler header weekends which will actually be the case for six consecutive meetings what with the way the holiday weekends fall this year.

Easter Sunday here for the BriSCA F2 Stock Cars for many years has meant only one thing and that is the World Championship qualifying round. Each venue that stages the F2's has one round apiece and today it is our turn, coming as the fourth round this year and the second on a tarmac track. Not only that, the Final will be for the annual staging of the fine Gerry Dommet Memorial trophy, sponsored by Anderson Racing Engines, remembering the man who built the track in 1969 and operated it until his death in 1998, as well as being a pioneer and leader for the sport almost since its arrival on these shores back in the 1950's.
Whilst bookings are still coming in at the time of writing the signs are that this will be the case again this year with a three heat format planned. As well as those who are local and regulars here, there will be drivers from far and wide including travellers from Scotland such as 641 Dennis Middler who always makes a pilgrimage here for this meeting, but there could be others yet and it wouldn't be a surprise to see the current top two from north of the border in 2002 World Champion 647 Chris Burgoyne and 888 Paul Ford be here with us.
With such a large field of cars, there is every chance a rapid lower grader could get ahead and sneak away with the spoils, just as we saw last year when young 935 Nathan Maidment took the honours.
He will be back to defend this year, now an established blue graded driver whilst other south west drivers looking to get good scores on the board to get them to the World Final itself at Buxton via the Semi Finals at Taunton will include 127 Matt Stoneman, 315 Justin Fisher, 642 Dave Luscombe – who ended as the runner-up in the big race last year, 676 Neil Hooper and this is just scratching the surface, plus we hope that 2007 winner 167 Bill Batten will be with us too. Reigning track champion 886 Chris Bradbury was on fine form at Arena Essex on Sunday and could well be the one to watch this time.
From the high speed of the F2 Stock Cars to the high speed of the Hot Rods, who will be raring to go after many of them blew their winter cobwebs away here at the practice day last month. They will be racing for the CWS Mears Trophy, remembering former Banger racer Tony Mears. He was a long serving mechanic to 718 Colin White who will be back again, amid a busy weekend for him and his National Hot Rod commitments and looking to win the trophy, just as he did last year.
It was young 26 Ross Loram who ended up winning the overall points in 2008 and he will be back again this time, whilst another second generation driver worth looking out for will be 34 Glenn Sanders as he takes to father 734 Ralph's car for the afternoon.
The Rookie Bangers will complete the programme on Sunday, coming after a good start to things a fortnight ago where there really was a variety of cars and drivers on the track and that is really what the essence of this form of Banger racing is all about.
It isn't all about the rough stuff, that is for what we now know as National Bangers, nudge and spin is what it is all about and it's a way of getting a car, stripping it out and having some on track fun with it and all within the reasonable safety rules and regulations etc of course.
It was a Dalton family whitewash last time with 58 Martin and 458 Kenny taking the spoils between them and it goes almost without saying that they could well be the ones to watch again this time, but there will be some stiff competition such as 475 Ben Sealy and a couple of drivers from far further afar with 1 Leyland Marson and 606 Nigel Denby set to make the trip down from the north-west of England.
On to Monday...
...and you might be forgiven in thinking that the humble late 1980's and early 90's icon the Ford Sierra has had its day. However, that isn't the case as the entries for the Special Rods have once again come in well over the closed season, and we are in for another great year from them.
The racing on their new Yokohama tyres was very close last time where 10 Stephen Hine took the Final honours. The nature of the class also often means that a quick lower grader will get away, and there are several new faces around this year, now with a meeting under their belt, so what is to say that one, or more of them could spring a surprise on the establishment?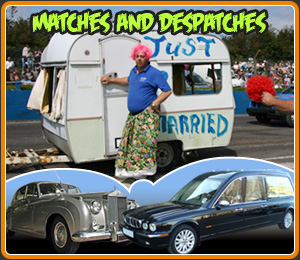 The raceway first will be the Matches and Dispatches meeting, all Hearse and Limo National Banger racing for the very first time here at Mendips. There has been a lot of interest in this, especially on the internet, and we are now greatly looking forward to this on what could become an annual event. Amid the Daimler Limo's there are no less than two Lincoln Town Cars from 107 Dan Chiplen and 404 Rob Mills booked to attend (that's a big American style Limo for those who aren't sure!)
With some of these cars really too long to drive around the turns of the track here, it is certainly going to be a memorable and spectacular session – and it will be interesting to see how many last the distance, and remember, it all ends in a destruction derby at the end of the day.
See here for an update of the runners and riders for this.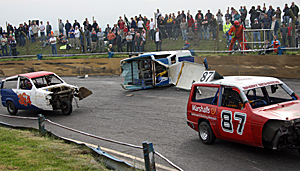 From one extreme to the other, the Reliant Robins will have their fun on three wheels for the first time this year and once again a good entry is expected where the ones to watch could well be 58 Martin Dalton once again, likewise 59 Mike Jones and the equally experienced 87 Barry Richards.
But, as time has gone on, a lot of those who hadn't raced anything before have really started to get the hang of things and could well be capable of upsetting the form book. But as ever, expect plenty of rollovers as the cars that are not really cars (remember you can still drive one on the road on a motorbike licence) are driven as they were never designed to be!
The Mini Rods will round things out on Monday, the youngsters pleased to be getting an Easter and were here as part of the opening meeting last month. The cars are standard BL 1000cc Minis for drivers aged 10 to 16 and strictly non-contact too. Such is the nature of their game, a few of those who were with us last year have now reached retiring age.
However, 60 Steve Sayer is back once again along with 501 Sam May, and 11 Tony Munden who took a heat and Final double last time whilst 23 Ross Stuckey was also going very well. As with the Special Rods though, although not quite as probable as many of the newcomers to the Minis are so young, there is still nothing to say that one of them could spring a surprise and two examples were 91 Sam Bartlett and 446 Aston Burt who looked good on their debut last year, whilst one who had a memorable first day racing for all the wrong reasons was 15 Shane Jenkins. We are pleased that he was all ok after a trip to hospital and even more so that he will be back in action this time.
Admission charges are pegged at 2008 levels. £10 adult, £2 child, and family ticket only £22.
No charge for car parking, and no need to book ahead!
Racing starts at 1.30pm, gates open at 12 noon.

Full catering available, and disabled toilets and viewing area.