Easter means only one thing. Racing!
And for the first time since 2019, you can have stox with your chocs.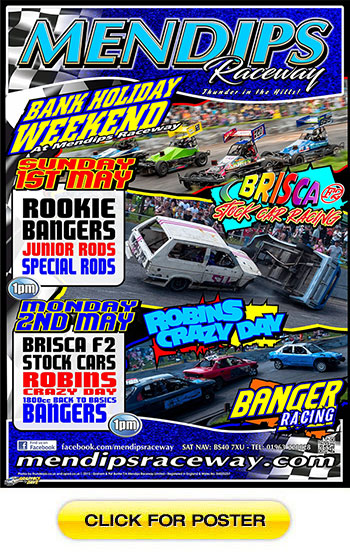 Sunday 17th April sees BriSCA F2 race for the first time this season in their traditional world qualifier for the Gerry Dommett memorial. Track champion Tommy Farrell (667) leads the entry along with national stars Liam Rennie (3) and Luke Wrench (560).
The Special Rods start another season with Dan Latimer (720) and Jason Oliver (303) being the guys to watch, however this formula produces top quality close action. Junior Rods it was all about the new stars Reece Welch-Fry (69), Macca Loader (14) and Final winner Alfie Murray (610).
Good close racing from the stars of Tomorrow. Rookies sees a bumper field of nudge n spinners led by the Jeanes of Chris (113) and Jody (133).
And then the bedlam of Van Bangers and the holiday favourites the Robins get the party started Both meetings start at 1pm.
Be there!
Sunday April 17th 2022 1PM
Featuring Brisca F2 Stock Cars World QR Gerry Dommett Memorial Trophy, Special Rods and Rookie Bangers
Monday April 18th 2022 1PM
Featuring Banger Vans-diesel only-Ramplins Trophy including Destruction Derby! Special Rods, Junior Rods and Reliant Robins
Tickets (Per event):
General Admission £16, Concession 65+ £12, Child (5-14 yrs) £5, Family (2 Adult, 3 Children) £40.