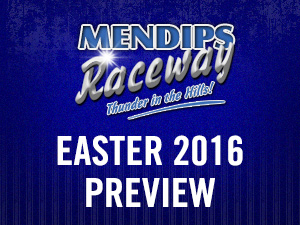 The 2016 Season is here and forward to the opening meeting at Mendips Raceway for our traditional Easter Double Header. Sunday sees BriSCA F2 Stock Cars, Hot Rods and Rookie Bangers in action, whereas the following day on Easter Monday sees the Junior Rods, Special Rods and the ever reliable Reliant Robins playing support to the Van Bangers!
BriSCA FORMULA 2
As sure as Easter Eggs are Easter Eggs, Easter Sunday has always seen a World Championship Qualifying Round for the F2s. Often well attended and never short on action, the main prize is the Gerry Dommett Memorial Trophy. Gerry Dommett was the former promoter here and built this very track back in 1969 and continued to rule the roost until his sad passing in 1998.
There will be a new name of the trophy as last year's winner Matt Linfield (464)'s new tarmac car isn't ready… or indeed built yet! Lower graders ruled the roost last year… could that be repeated???
Formwise, 2015 Track Champion Neil Hooper (676) is in good form going into this meeting, following a final win at the opening Smeatharpe, and local favourite Chris Mikulla (522) has also won a final at Birmingham this season. Cast your minds back to September, and the closest track championship in years was contested between these two.
Visiting drivers come from far and wide, with Dennis Middler (41) due to join us from Scotland, and dual surface racer Peterborough's Andrew Palmer (606) looking to get some all-important qualifying points
World Champion Kelvyn Marshall (101) is due to join us here, so give the gold a cheer when you see him.
With the world final being held at Mildenhall in Suffolk, and the semis at King's Lynn, we are more than likely to see a few unfamiliar drivers on the hallowed Mendip tarmac, as the shale drivers aim to make a more concerted effort to get in to a rare world championship opportunity.
Our thanks got to Shocktec for their continued support of this meeting.
HOT RODS
The highly tuned non contact stars of the raceways return for another season of close quarters action here at Mendips. The CWS Mears Trophy up for grabs, remembering former banger racer Tony Mears. Tony was a loyal mechanic to Colin White (718) and was a core part of his racing team, during his exploits in the National Hot Rods and his circuit racing days.
Like the BriSCA F2's, the Hot Rod Track Championship in 2015 was a close run thing. Eventually, it was James Griggs (258) who took the track championship. Outlaw Hot Rod World Champion, Cornwall's Mike Hibberd (125) took home Mears Trophy and the West of England Championship last year and will be one to watch again along with Rick Lee (578) and veteran Steve Hunt (282).
ROOKIE BANGERS
Nudge and spin is the name of the game for this very highly popular form of banger racing, where crashing, and not necessarily wrecking is the name of the game.
Last time out for the Rookies was back in August and it was Ashley Rice (938) who took top honours, however Ben Styles (83) became Track Champion.
Keep an eye out for Dan Chiplen (107), Sam May (505) and Lee Dalton (129) who are ones to watch.
Our focus then turns to Monday, which sees the Junior Rods, Special Rods and the ever reliable Reliant Robins playing support to the Van Bangers!
VAN BANGERS
The backbone of Britain, the humble old Van, will meet its maker on the racetrack today. So if your contractor hasn't turned up, or your parcel has been lost in the delivery, there's a slight chance that their method of getting their services might be delayed or cancelled. Transits and Sherpas will come to crash and bash in a spate pure van-dalism, in a display befitting the white van drivers we all know and love. You don't need a great deal of entries to give a heavy hitting action packed set of races.
SPECIAL RODS
Yet another season for the budget non contact class the Special Rods, where Sierras get another lease of life. With a shared engine and control tyre, the racing is fair and fast! Last time out, Ben Brice (701) took a faultless hatrick along with the West of England title, however it was Russ Colenutt (426) who took the silver roof of Points Champion for 2015.
JUNIOR RODS
Proving that the kids can have fun – the Junior Rods – 8 new drivers took their race assessments at the recent practice day, which bodes very well for the ongoing formula. With the introduction of more bodies into the formula, to supplement the minis which has made the formula grow. Charlie Ayles (300) was the star of the show at the end of last year with 2 wins, including the West of England title. The next generation of racers are certainly in good hands.
ROBINS
25% less wheels, 100% action, our three wheeled friends are back for another season of rocking and rolling as thrills and spills aplenty are on often by the bucketload. Tim Weare (304) became Track Champion last year, with Entertainer of the year being Gordon Mintram (101).
And if you haven't seen Robins racing- you have more rollovers than the Euromillions.
Both eggs-cellent meetings I'm sure- They both start 1pm.