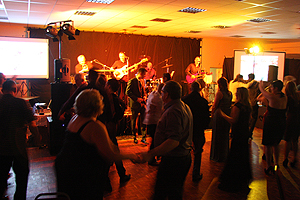 Another large crowd gathered for the 2014 Dinner Dance and Presentation night at the Webbington Hotel on Saturday 8th February 2014.
 
There were many trophies lined up on the trophy table, and for the first time, the Juniors were invited, so there were three presentations for them.
After the excellent roast beef dinner, Graham Bunter welcomed everyone, and then invited Andy Chant and Steve Linfield to the stage to make the presentations. There was a bit of slapstick featuring Andy and apprentice starter Michael Elliott-Turner, and then it was on with the awards, presented by Andy and Steve and handed out by Trophy girls Joanne and Sammy-Jo.
Eventually, we arrived at the moment when the Driver of the Year was announced, and after a video run down of the runners up, who were Tom Davey (54) Jordan Edwards (224), Richard Howard (47) and Rob Bugler (262), Graham Bunter revealed that in his final season, the trophy had been won again by Mike Cocks (162) to a great round of applause.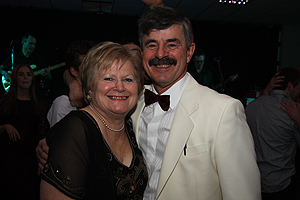 Drinking and dancing followed, and plenty of time was spent inspecting the three cars on display from Tim Weare 304 (Robin), Dean Quinn 27 (Transit van banger) and a superb Rolls Royce banger from Tom Davey (54).  As usual, the event finished at 1am, but there were plenty still in the bar two and three hours later!
We're all booked for 2015 - make a note of the date now!
{module Facebook slideshow - 2014-02-08-Dinner-Dance}

Click Here to View and Tag the full gallery on Facebook