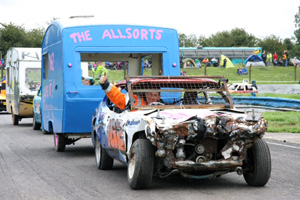 Another great night at the Webbington Hotel saw Mike Cocks voted as Driver of the Year 2012, by a single vote from up and coming youngster Rob 'Roona' Bugler.
The poll, which is drivers voting for drivers came as the climax of the presentations, which also included special awards to the Parry brothers, whose Thunderpix brand had done so much to raise the profile of Mendips Raceway, over the past few years, and another to Roona to recognise and record his achievement as the youngest ever National Banger World Finalist. With Chris and Mike Parry now concentrating on racing rather than photography, it was apt for the camera to be turned on then for a change!
Many of the Points Championship trophies were awarded, and Matt Ashmore was recognised for his entertaining antics in the Robins.
Everyone enjoyed their roast beef dinner, despite host Graham Bunter jokingly casting doubt on it's origins, and then the Magic Mirror played three sets, interspersed by the traditional previous season's highlights dvd presented by Chris Dalton of CVS, and a raffle for FORDS.
Plenty of dancing and drinking rounded off the evening, and although being still in the bar at 4am, the Bugler team were off bright and early to race at Wimbledon London Open on Sunday evening!
{faceswipe album_id=4/}