Well over 200 fans and drivers attended the 2009 Dinner and Dance at the Webbington Hotel on January 24th, which was a night of good food, music and fun.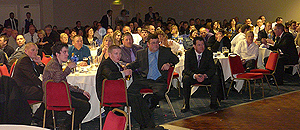 After a three course dinner, the presentations began with a light hearted quiz over distance travelled which pitted Dave Harley against Darren Wade to attempted to guess exactly the distance they had travelled with Darren winning with a margin of only four miles.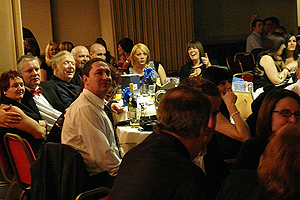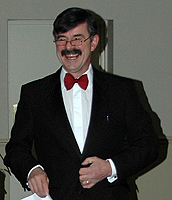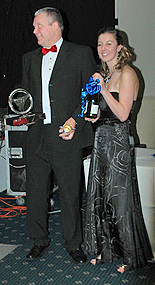 The Points Championships and major trophies were distributed, with Nathan Maidment on hand to collect the Gerry Dommett Memorial trophy, and apologies were given for Chris Bradbury who was unable to attend due to a family commitment. Martin Dalton had an outstanding night, collecting Banger Points, Rookie Banger Points, Suffolk Open , British Beef and Heavy Metal Classic trophies.
In the hall were Dave Luscombe's 2009 Randall F2 car, a Reliant Rialto from Darren Feltham, and National Banger for comeback kid Lee Norman, featuring the 2009 Banger £1000 Summer Open event.
There was a presentation to the retiring Steward Andy Harris and his wife Loreen, with Andy giving a speech thanking all the staff and drivers for his many years in the box, before he was given a ceremonial black flag by Colin White!
Then it was time for the annual Driver of the Year Award, and during a breathless countdown, many names were mentioned, but it was a victory for Reliant Points champion Jonathan Coombes, having a major win after returning to racing following twelve years away.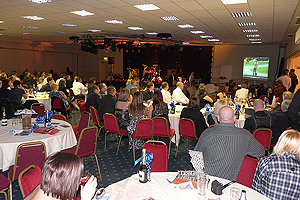 After dancing to the excellent band, all eyes were fixed on the screen, as the gathered Mendips Raceway family enjoyed 20 minutes of captivating video highlights from the 2008 season, expertly edited by Chris Dalton from CVS.
The 2008 Mendips Raceway Highlights Video is available for purchase from Chris for £5 including P+P. A fabulous momento of a brilliant season.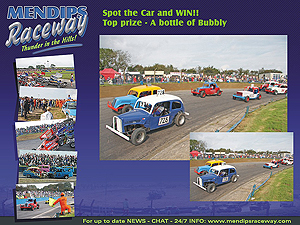 The Spot the Car and Win competition was won by Ben McNally, who with pin-point accuracy managed to locate the invisible heritage stock car.
Runner up was Kevin Oliver.
Congrats also to Jenny C, Peter S, Graham M, Ken B, Sam S, Jason O and Steve N for being near but a little bit too far!
For those wondering where the car was, the original photo is reproduced here.