Mendips Raceway
Sunday July 24 2011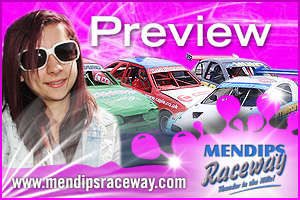 Mendips Raceway will be back in action this Sunday as we remember one time Banger racer 'Filo' Phil Cleverley who was taken from us a few years ago after losing his battle with cancer.
The annual 'Crashmania' Banger team meeting was always one of Phil's favourites, and it was decided to make it his annual memorial, but with a difference as it has become very much a fundraising event for Cancer charities too.
As usual, there will be a variety of outrageous costumes on a 'pink' theme, and Mendips Raceway will put £1 of every adult admission into the charity fund if you came in wearing pink.
So make sure you do!
Filo's family have organised an enormous fund raising effort this year 'Bang On Track'  which involves a massive road trip around as many oval racing tracks in in the UK, including Northern Ireland in the week leading up to this event, and you may have been following that on the www.ovalbangerchat.co.uk internet forum.
In addition, they have held four auctions on the said site with tickets to a drive in a Mondeo Rookie Banger, possibly here next month if the winner is locally based and they have raised almost £700 from these sales at the time of writing.
As well as the Banger side of things, the BriSCA F2 Stock Cars are scheduled with the meeting this year for the first time since 2002 and they too will be on a Cancer charity theme racing for the 'Pink Ribbon Trophy', presented by the Maidment family and there are charity events planned too, with Andy Maidment planning on having his back waxed just prior to start time.  Ouch…. And, if you ever fancied throwing a wet sponge at our Starter Andy Chant, your chance will be before start time, but again, make sure you give generously first!
Last year in the Banger teams it was the "Impact Squad" who took the title after battling at the top of the charts with the "Wallies".  These are two of the top regular 'teams' here at Mendips, and there is every chance that they will be the ones again this time.
Domestically, the track points have the veteran stars at the top with 517 Scott Weldon leading fellow south coast driver 40 Pete Stanley and then 58 Martin Dalton, whose biggest win this year came at 'Thunderbolt'.  In the BriSCA F2's the track points are very tight at the top, which is the case for the first time in many years when 886 Chris Bradbury has already run away with it by now.
Having missed a meeting apiece here, he and 676 Neil Hooper are very close at the top and teenage sensation, and National Champion 921 Jack Aldridge and local star 522 Chris Mikulla are not very far behind, so along with Sunday and the remaining two meetings in August and September, this season could see the points go all the way.  We will also see the second round of the Rookie's Reward for the white and yellow graded drivers, sponsored by one time driver Merv Maggs and his wife Mary.
Not to be outdone, the Hot Rods are also going to be joining in the fundraising in their own way, and we look set to welcome back some drivers whom we have not seen for a while too, including 780 Mike Loosemore and possibly 734 Ralph Sanders.  They will without doubt offer stiff competition to 718 Colin White, who is set to be present along with the two who dominated proceedings last month in 282 Steve Hunt, who currently leads the points, and 904 Wilson Hamilton.
Hopefully something more like summer will be with us once again for the weekend, but we'll kick off, whatever the weather as usual at 1.30pm with what will hopefully be a very colourful and amusing grand parade – so be in place on good time to see it!