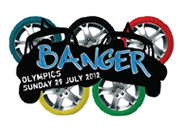 Sunday July 29th 2012
Good afternoon and a very warm welcome to the Mendips Raceway.
For petrol heads unimpressed by athletics, sailing, swimming , boxing and all other Olympic events, today Mendips Raceway is running the Banger Racing Olympics!
This once in a lifetime race meeting will feature lots of banger racing, with teams representing Olympic countries, 100 metre sprint, a bike race, and gold, silver and bronze medals for all of the winners.
A good entry of local and travelling drivers is anticipated, and various countries have already been allocated to willing teams to decorate themselves and their cars in the hope of winning medals. Jamaica, Wales, Spain, England and Cornwall (!)  will be part of the event, and other teams are being allocated before the day. A more complete teams list will be found further on in the programme, but the whole emphasis today is putting the fun back into bangers for a day. There will be ample opportunity to dress up drivers and cars and win medals! The winning team will be the one with the highest number of medals, and gold, silver and bronze medals will be awarded for every event.
There are four different classes of bangers racing today - Micro Bangers, Non Mondeos, 2 litre open, and unlimited, and each class will have three events. The Micro bangers will kick off with a relay race, with balloons tied to the back of each car, that have to be burst, and the winner will be the one who survives the longest with his balloon intact!
We would be less than honest if we did not admit to being disappointed with the number of teams that are booked, but having set out on the path that led to this meeting over twelve months ago, and having spoken to a great many people in banger racing, we were quite pleased at the level of support that was shown, so the meeting went into our calendar. That said, there are enough drivers and cars to make the meeting viable, and as we have some spare space in the pits, we have invited the Reliant Robins to join us today for some of their madcap style of racing.
We are delighted to announce that the Robin World Champion, Allen Cooper (702) from Peterborough, will be racing today, alongside his running mate Ryan Sutcliffe(664) who is also making the journey down from Peterborough. Allen Coopewr is also a successful Brisca f2 stock car driver, and has competed here often in the past at major championship events, so it will be good to see him on three wheels instead of four! Lee Charles (499) has a tremendous lead in the Points Championship, despite the introduction of Entertainer awards and Rollover points, so he is well on the way to retaining the Championship, with only one(or now two) meetings to go. The Robins will have their usual starring role in the next meeting, August Bank Holiday Monday, with their annual Figure of Eight Race and Destruction Derby.
Racing starts at 1pm, and the Raceway can be located by postcode BS40 7XU,