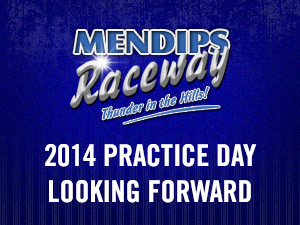 After a sunny and fine day at our annual Practice event of Saturday March 1st, attended by 70 drivers, attention turns to our first racing event of 2014, which takes place on Sunday March 30th.  This meeting is for Micro Bangers-which always attracts an excellent field of drivers and the little cars dish up masses of action!
In addition, it will be the first outing for the Special Rods, Junior and Hot Rods. No less than ten new drivers signed on for Juniors yesterday, which is really good news for the formula, but sadly, of this ten, there was only one girl, and given the number of really successful girls who have retired over the last couple of years, that is a shame.
A good number of new drivers and cars took part in the Hot Rod practice session. Andy Wadley (6) was using the ex James Griggs car, while James was using his new car which really looked and went extremely well. James is very welcome back after his long illness, and is raring to go. Mark Shelper (88) had a few engine problems with his new car, but hopes to get them sorted by March 30th.
Full preview will follow.